British boxer Amir Khan wore most expensive shorts in the history of boxing during a fight in a welterweight showdown against Devon Alexander on Saturday night. The shorts, made up of White Nappa Leather, silk and featuring a waistband made of 24-carat Gold thread. The 28-year-old Amir Khan wore shorts worth an estimated £20,000-£30,000 for the fight with the American, the most expensive shorts in the history of boxing.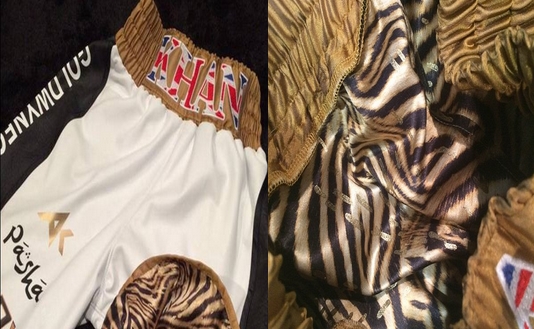 The Sheffield company Fight Label, who made the shorts, said Khan "wanted extravagant and we've delivered".
The designer of the shorts, Sophie Whittam, told BBC Radio 5 live: "I think it's possibly the most expensive shorts ever made.
"We worked closely with Amir's team. For around four to six weeks we've been working on designs and colors and obviously Amir and his family had a little bit of input, but at the end of the day it's what we think is going to look best. It is a very involved process.
Khan clinched victory against Devon Alexander in a twelve-round match. Amir Khan dominates in WBC welterweight title fight and defeated Devon Alexander by 119-109, 118-110, and 120-108. Afterwards, Khan reiterated his desire to fight American Floyd Mayweather.
"I really believe I've earned my shot against the best boxer in the world and that's Mayweather," said Khan.
"He is the ideal fight for me. It would be a game of chess, but I would be too skilful. I have the skill and movement to beat him. He will not be able to hurt me.
"I feel better now than I did when I was 25. I'm dedicated to the sport and I know there's a few years left in me. I'm going to try and force that fight with Mayweather."