It's an exciting experience filled with thrilling anticipation, colorful costumes, and roaring crowds. The best horse racing the world has ever seen, it is witnessed annually by thousands of excited fans at Churchill Downs!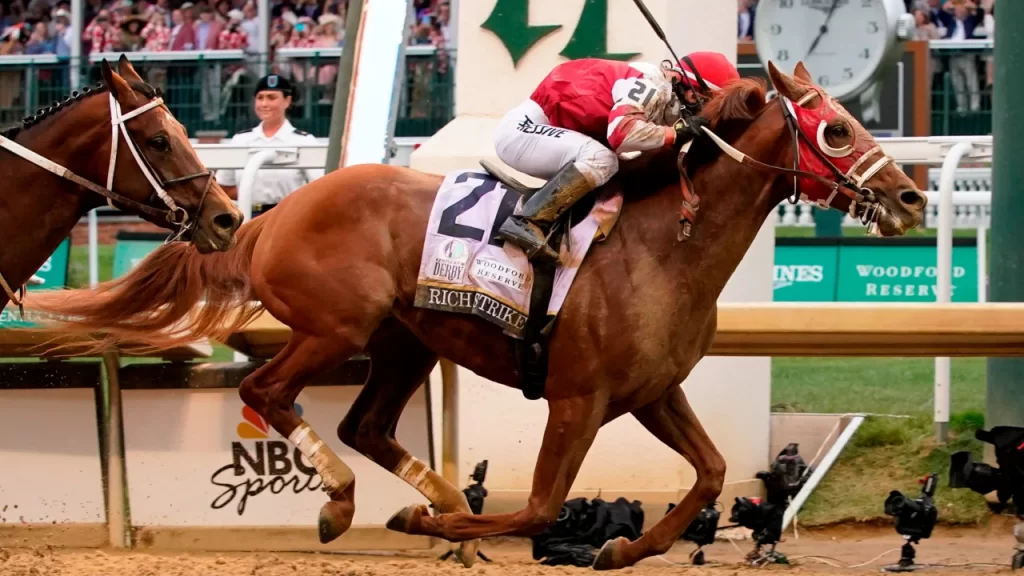 The Kentucky Derby has something to offer everyone, whether seasoned spectators or beginners. Expect to see a myriad of activities and attractions. Families and friends alike will enjoy it. Here are eight things you can anticipate happening if you go to the Kentucky Derby.
Exciting Horse Races
The horse races during the Kentucky Derby are a major attraction. Churchill Downs will host events featuring some of the most incredible horses in the world as they try to be the fastest. Seeing these stunning animals race around the track while involved in an exciting competition is the most electrifying experience. Also, you may get to know the owners, trainers, and jockeys.
There are several ways to wager on the Kentucky Derby. You may place a wager on the horses or even select to receive a special reward if your selection places first. Also, if you want the most up-to-date information on who to bet on, use resources like TVG derby picks.
Fashionable Outfits
Also, the Kentucky Derby is a fantastic occasion to dress to impress. Men must dress sharply in their best suits or tuxedos, and women must dress stylishly and decorate with hats. Many people get the chance to showcase their style at this event. Along with appreciating your outfit, you'll also love admiring everyone else's.
It is a fun and original method to express oneself and create a fashionable statement. There are endless ways to display your style at the Kentucky Derby, from extravagant hats and feather boas to bright suits and dress shoes.
Delicious Food and Drinks
A party wouldn't be complete without delicious food and beverages. Southern-style BBQ and sweet desserts are just a few mouthwatering options at the Kentucky Derby.
You may purchase your favorite foods from the concession stands or head to one of the many restaurants for a sit-down meal. You may also relieve your thirst with a refreshing beverage ranging from traditional mint juleps to upscale cocktails.
Nothing makes you happier than eating and drinking tasty things while watching horses gallop around a racecourse.
Live Music and Entertainment
Also, there is a ton of musical entertainment during the Kentucky Derby. You may take in live performances by bands and DJs playing jazz, rock, or even country music. There are also standout performances by skilled actors, dancers, and singers. The energy level is usually high!
It's the perfect way to get a fun and exciting evening started. You may discover music to suit your tastes, whether you like a soothing acoustic performance or upbeat dance music.
Behind-the-Scenes Tours
The Kentucky Derby delivers behind-the-scenes excursions for a more in-depth experience. You may receive an insider's perspective of the track, stables, and even the jockeys' quarters. Read about the maintenance and training of the horses that compete in these events.
Plus, you'll get to engage with the horse owners, trainers, and grooms. At Churchill Downs, learn about their lives and their stories. It's a fantastic way to experience the Kentucky Derby in its truest form!
Interactive Games and Activities
The Kentucky Derby also includes lots of interactive activities for all ages. Everyone can have fun with the carnival-style booths and inflatable games available. Both kids and adults may enjoy playing age-old carnival or classic horse racing games like pin the tail on the donkey.
The Kentucky Derby is an excellent opportunity to have fun with friends and family while learning about horse racing. Thanks to the engaging activities and behind-the-scenes excursions, you will undoubtedly have a great time.
Trophies and Prizes
One of the major attractions of the Kentucky Derby is seeing trophies and awards presented. The winning horse receives a deserving trophy and a significant monetary award, making it a thrilling event. Each participant also receives a gift, such as a flower or a commemorative photo.
Winning the Kentucky Derby is a beautiful accomplishment; attending it in person is fantastic. You'll have a blast supporting your favorite horse and watching the trophy presentations.
Festive Atmosphere
The atmosphere during the Kentucky Derby is known for being festive. People have a fantastic time wherever they turn while wearing bright clothing.
Everyone is having a great time, singing and cheering for their favorite horse.
The thrill of horse races and the celebration of life attracts visitors from all over the world. There won't be another occasion just like it, and you'll have valuable memories to remember it by.
Final Thoughts
There is something for everyone at the fantastic Kentucky Derby. You'll have a great time, from delicious food and drinks to interactive activities and behind-the-scenes tours! The Kentucky Derby is ideal for everything you're searching for: entertainment, educational possibilities, or just a chance to see awards presented. So join the fun and create some lifelong memories.