While many of us will be focusing purely on the football, the 'beautiful game' is also hugely profitable in economic terms. The 2022 FIFA World Cup is also expected to be the most profitable in the sport's history, amidst predictions the quadrennial event will rake in record revenues this year.
During a talk he gave at the World Economic Forum earlier this year, FIFA president Gianni Infantino said the projected World Cup audience could surpass 5 billion, largely due to greater ease of access to TV broadcasts and online streaming platforms. This in turn means that FIFA will generate increased revenue, given that more than 140 countries have bought official TV rights for the tournament.
Cashing in on football popularity
In the week ahead of the 2022 FIFA World Cup beginning in Qatar, regional media outlets and financial institutions have been estimating potential revenues for the tournament. This year, FIFA itself is projected to exceed revenues of around $5.4 billion, the most ever made by football's governing body during a World Cup cycle. For hosting the tournament, Qatar is expecting to add roughly $17 billion to its national economy.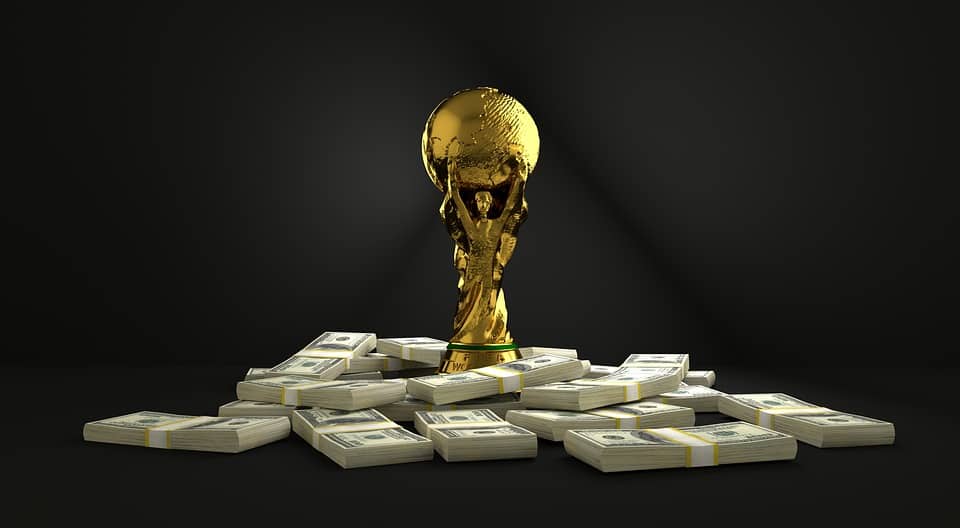 These numbers are before calculating additional revenue streams like marketing, which is obviously going to be immense during the 2022 World Cup, due to the participation of some of the biggest brands on the planet. Brands directly involved include the likes of Coca-Cola and Adidas, amongst numerous others, contributing towards a net marketing revenue that could surpass the $1.8 billion mark in endorsements.
As this will also be the most watched World Cup in competition history, the gambling and gaming industry is also eyeing record business, with betting platforms covering every possible angle throughout the tournament. Indeed, punters will be able to wager on everything from the outright World Cup winner to which player scores the most goals, along with live in-game markets following the action during every match.
According to FIFA data studying the impact of the 2018 World Cup, almost $142 billion was wagered on the tournament globally, the most ever spent on any major sporting event internationally. Ahead of the 2022 World Cup, some industry experts and economists project that figure could easily be doubled, if not trebled, given the increased reach of sports betting around the world.
Punters are looking for an extra edge
Throughout the duration of the 2022 FIFA World Cup, many of us will consider wagering on the outcome of games and even the competition itself, given that bookmakers are providing a broad range of markets covering the event. Likewise, the competition between bookies to attract customers is just as fierce, which mean that comparing odds will certainly be worthwhile, as one may offer company may offer better value compared to their rival.
Some people may even consider arbitrage betting to find an extra edge, but what is arbitrage betting and how does it work? Well, the word 'arbitrage' is most commonly found in economics. By definition it means the simultaneous buying and selling of securities, currency, or commodities in different markets or in derivative forms, in order to take advantage of different prices for the same asset.
When we take that definition and apply it to sports betting, the same advantage can sometimes be found when looking at the odds for an event with different bookmakers. They can often include an overround in their pricing, which is essentially a 'house edge' that replaces the true odds of each outcome.
But this can also present an opportunity for punters, making it possible to bet on a particular outcome with two different bookmakers, covering both the winning and losing odds profitably. Of course, finding such opportunities can take some considerable time, although there are now odds comparison sites and apps available, reducing the search time for arbitrage bettors.
Everyone looking to be a winner
For most of us, having the occasional flutter on football matches adds to the entertainment, giving us an increased sense of direct participation when we also have something at stake. In certain countries, people will need to pay for TV or online subscription to watch the World Cup, while others may have bought shirts of the national teams they will support.
All of this adds to the impressive revenues generated by the World Cup itself, although what matters most of all to fans is the quality of the action on the pitch, ahead of what promises to be a thrilling 2022 tournament. However you may be watching, and whether betting on different markets for the tournament or not, hopefully it will be a magnificent event everyone can enjoy in their own preferred ways.