The 11th edition of the ICC Cricket World Cup is taking place in Australia and New Zealand. This time 14 teams are in action for the title. As we know that Cricket is full of record-breaking statistics and the ICC Cricket World Cup is no exception. But before the conclusion of 11th edition let us have a look back at the record of Top 10 ICC Cricket world cup highest individual scores scored in all the editions of the world cup.
11. AB de Villiers: 162*(66)
On 27 February 2015, in a world cup group stage match, South African captain AB de Villiers tore apart the West Indian bowling. He scored the 10th highest score of the world cup history in just 66 balls. His innings of 166* was decorated with 8 sixes. He also scored 17 fours in the match.
10. Glenn Turner: 171* (201 balls)
It was the first ICC Cricket World Cup when Glenn Turner of New Zealand slammed a historic ton in the very first day of ICC Cricket world cup against East Africa. Turner carried his bat and scored unbeaten 171 of 201 balls. The innings is also one of the longest individual innings ever played.
9. Craig Wishart: 172* (151 balls)
During 2003 world cup Zimbabwean Opening batsman Craig Wishart hit a record 172 not out in his first World Cup match as Zimbabwe totaled 340 for two against the inexperienced Namibian bowlers at Harare Sports Club. Other than Craig Wishart's historic innings this match is better known for Andy Flower and Henry Olonga sporting black armbands to "mourn the death of democracy in Zimbabwe."
8. Virender Sehwag: 175 (140 balls)
The 7th highest individual score in the history of cricket world cup is the most recent one. During the 2011 world cup, Indian opening batsman Virender Sehwag hammered 175 of just 140 balls against Bangladesh. His innings included 5 sixes and 14 boundaries and Sehwag got the ICC Cricket World Cup 2011 off to a blazing start.
7. Kapil Dev: 175* (138 balls)
It was 1983 world cup when Kapil Dev came to the crease to rescue his team against Zimbabwe when Indian team were four down for just nine runs. Indian captain then led his team from front and went on to score the sixth highest individual score in the world cups. He made 175 not out of 138 balls with 6 sixes and 16 fours.
6. David Warner: 178 (133 balls)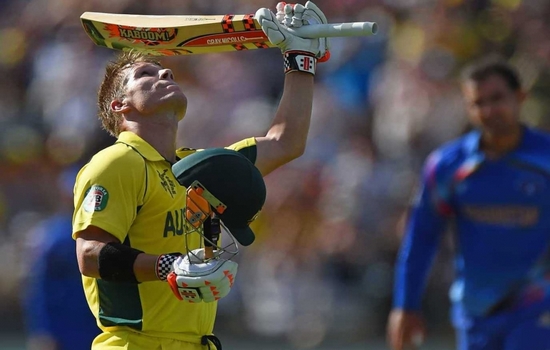 David Warner`s carnage against associate member Afghanistan is the latest entry in the highest individual world cup score. The left handed piled up 178 in mere 133 balls on 4 March 2015. 19 fours and 5 sixes were the part of that incredible innings.
 5. Viv Richards: 181 (125 balls)
Viv Richards 181 off 125 balls against Sri Lanka at Karachi on 13 October 1987 is 4th highest individual score in the world cups. Richards scored these runs at a phenomenal strike rate of 144.80. He decorated his innings with 7 sixes and 16 boundaries.
4. Sourav Ganguly: 183 (158 balls)
The forth name in the list of world cup highest individual scores is Sourav Ganguly. Former Indian captain played a breath-taking knock against Sri Lanka to score a massive 183 off just 158 balls during the 1999 world cup. He reached this score with the help of 7 sixes and 17 fours. His innings of 183 runs is the highest score by an Indian in the tournament.
3. Gary Kirsten: 188* (159)

South African opening batsman Gary Kirsten is on the 3rd position in the list of top 10 ICC Cricket world cup highest individual scores. He made 188* from 159 balls against U.A.E. at Rawalpindi on 16 Feb 1996. His 188 run innings included 13 fours and 4 sixes. Besides being the 2nd highest individual score in the World Cup by any batsman, his 188* run innings is also the highest one-day figure recorded by a South African player.
2.Chris Gayle: 215 (147 balls)
Chris Gayle's double ton against Zimbabwe on 24 February 2015 is the 2nd highest individual score in all the world cups so far. This is also the first double century scored by any batsman in World Cups. He notched up his double century off 138 balls, the fastest ever double century in ODIs. Gayle finished on 215 from 147 balls. He decorated his innings with 10 fours and 16 massive sixes.
1.Martin Guptill 237*(163 balls):
Martin Guptill's blazing 237 not out off just 163 balls are the highest individual score in the history of all World Cups. The Kiwi right handed opener smashed 6th double hundred in ODIs against West Indies in the final quarter final of World Cup 2015. His innings was composed of 11 sky high sixes and 24 fours.