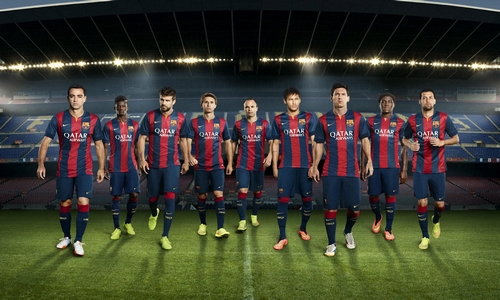 The 'Capitalist Tool' Forbes has released its 12th annual report regarding the most valuable soccer clubs in the World. The Report says that the top 20 most valuable soccer clubs are worth an average of $ 1.16 billion, 11% more than the last year and 84% higher than five years ago. The most remarkable progress has been made by the Spanish La Liga leaders FC Barcelona jumping from 5th to the second spot in most valuable soccer clubs list. The club has advanced much monetarily and is valued at 3,163 million dollars just 100 million short of the front-runners Real Madrid, the smallest gap for the last five years. In 2010, the distance was 835 million; in 2011 it was 889; in 2012 it was 920; in 2013 it was 700; in 2014 it was 240; and this year it is just 100 million. In three years, FC Barcelona's value has risen by 21.5% while Real Madrid's has dropped by 1.5%. It can be assumed now that the club can take over the top position in coming years. FC Barcelona has a great chance to increase its value in the approaching years through the renewal of the shirt contract and its sponsorship, and the investment in the new Espai Barça project.
Real Madrid however is the current leader of most valuable soccer clubs scuffle. The club worth $3.26 billion and is at the top of list for a third consecutive year, mostly due to broadcasting and commercial revenues of $277m and $314m respectively. Also Real Madrid earned $154 million from Champions League play for the three-year period through 2014, the most of any team. Manchester United is the third amongst most valuable soccer clubs in the World valued at $3.1 billion. Manchester United has contracted a record-shattering, 10-year dual global sponsorship and licensing deal with Adidas that begins with the 2015-16 season and guarantees the team at least an average of $110 million a year.
The complete list of top 10 most valuable soccer clubs is as under.

Most Valuable Soccer Clubs in World 2015
| | | |
| --- | --- | --- |
| Rank | Club | Worth |
| 01 | Real Madrid | $3,263 million |
| 02 | FC Barcelona | $3,163 million |
| 03 | Manchester United | $3,104 million |
| 04 | Bayern Munich | $2,347 million |
| 05 | Manchester City | $1,375 million |
| 06 | Chelsea | $1,370 million |
| 07 | Arsenal | $1,307 million |
| 08 | Liverpool | $982 million |
| 09 | Juventus | $837 million |
| 10 | AC Milan | $775 million |