There was a time when Cricket was used to be known as the" Gentleman's game". As time passed and with the involvement of technology, both the technique and style of playing Cricket has changed. Now it can be said that Cricket is no more Gentleman's game. The modern Cricketers use a number of innovative shots to upset bowler's rhythm and to destroy the field plan.
As modern cricket is getting faster day by day, so most of the batsmen used these innovative shorts in cricket. The question is that who is the most improvising batsman in cricket.  It would be AB de Villiers and Glenn Maxwell. Both these batsmen has ability to hit every ball in either side of the ground. Both has played almost every named shot of cricket, others are still unnamed. Some of the most famous innovative shots in cricket are enlisted below: 
1. Reverse Pull

Mater of innovation Mr. 360 AB De Villiers again shocked the Fans by his innovative shot during the 4th ODI between New Zealand and South Africa in Hamilton. That was not a reverse sweep but reverse pull.
De Villiers was all set to play a reverse sweep and even changed his stance to play the shot but Trent Boult bowled a slow bouncer. However, De Villiers waited for the ball before playing a left-handed hook shot for a boundary. Probably Cricket fans have never seen such sort of cricket in 148 years history of cricket.
2. The Helicopter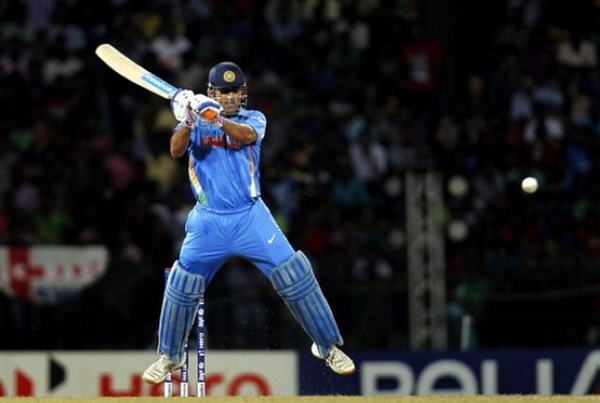 Innovated by Indian captain M.S.Dhoni, Helicopter shot is probably the most effective innovative shot in cricket now days. By using this invention, boundaries can be scored even off the Yorkers. Explaining the shot is probably much more difficult than playing it – it is in essence a wristy whip shot, but uses a lot more bottom hand and has more pronounced bat swing after the shot is played. The quick rotation of the blade in the follow through of the shot also explains the name "Helicopter" associated with the shot. According to Dhoni, he started to play the Helicopter shot in his childhood when he used to play with Tennis ball. Even he himself admitted that the shot is not easy to play and a wrongly implemented Helicopter shot could result in a toe injury, as the bat-speed is very high while playing the shot. That probably explains why not many other batsmen have mastered the shot. Although there are not much players who have mastered the Helicopter shot, there are a few who love to imitate. One such player is Afghanistan's opener Mohammad Shahzad, who is also a huge fan of Dhoni.
3. Dilscoop

Dilscoop is another innovative short in cricket developed by the Sri Lankan right handed batsman Tillakaratne M Dilshan. The basis of the stroke is to go on one knee to a good length or slightly short of length delivery off a fast or medium paced bowler and 'scoop' the ball over the head of the wicket keeper. The ball travels straight towards the boundary behind the wicket keeper. The Dilscoop has also become known as the "McScoop" in New Zealand, due to right-handed batsman McCollum's extensive use of the shot.
Watch Dilscoop Here
4. Switch Hit

Another innovative cricket shot, first used by English batsman Kevin Peterson, is Switch hit. To play this shot effectively batsman has to change from a right-hander to a left-hander just before the ball is delivered by the bowler. The shot is executed by changing stance from a right-handed to a left-handed batsman or vice-versa during the bowler's run-up and hitting it in the cover region. Australia's David Warner is another player of this shot who often uses it.
Watch David Warner's Switch Hit:
5. Reverse Sweep
A reverse sweep is a cross-batted sweep shot played in the opposite direction to the standard sweep, thus instead of sweeping the ball to the leg side, it is swept to the off side, towards backward point or third man. To make the stroke easier to execute, the batsman may also swap his hands on the bat handle. The batsman may also bring his back foot to the front therefore making it more like a traditional sweep. The advantage of a reverse sweep is that it effectively reverses the fielding positions and thus is very difficult to set a field for. The shot was invented by former Pakistani batsman Haneef Mohammad however it was first regularly played by Mohammad Mushtaq.
Video: Maxwell reverses sweep for Six
6. Sweep and Paddle Sweep
A sweep is a cross-batted shot played to a low bouncing ball. A paddle sweep shot is a sweep shot in which the ball is deflected towards fine leg with a stationary or near-stationary bat extended horizontally towards the bowler.
Video: The Sweep variations;
7. Upper Cut 
Although Sachin Tendulkar frequently used this shot but it is trademark of Virender Sehwag. Its Sehwag's game changing shot. It is usually hit toward third man region on extra bounced delivery usually pitched outside the off stamp.
8. The Marillier Shot
The pioneer of this innovative shot is Zimbabwean batsman Dougie Marillier. It involves using the bat as a ramp to flick a ball backwards over the batsman's shoulder for a boundary. It is a rare, risky and unorthodox shot but when successfully used can be devastating. Dilscoop and Pedal scoops are new versions of this shot. There is a main difference between Dilscoop and Malillier shot, in former, ball travels over the head of wicketkeeper while in latter ball moves toward the fine leg region.