Top ten highest individual scores in ODI Cricket is a tribute to those batsmen who has scored the most runs in one game. Till date three double hundreds have been scored in ODI cricket and all of those are scored by Indian batsmen. Moreover the numbering in the list is based on the number of balls consumed to score the runs.
11. Sanath Jayasuriya 189

One of the many achievements of Sanath Jayasuriya is to feature in the list of top ten highest individual scores in ODI Cricket.  Sri Lankan all-rounder made 189 run from 161 deliveries on 29 Oct 2000 against India. 7th highest individual score was decorated with 21 fours and 4 sixes.
10. Martin Guptill 189*
New Zealand`s Right-handed top-order batsman Martin James Guptill is another fine player to score more than 150 runs in ODIs. His 189 not out from 155 features at number six in the list of top ten highest individual scores in ODI Cricket. His terrific innings came against England on 2 Jun 2013.
9. Charles Coventry 194*
194 not out from 156 balls by Zimbabwean right-handed batsman Charles Kevin Coventry is the fifth in the list of top ten highest individual scores in ODI Cricket. Coventry punished Bangladeshi bowlers in Bulawayo on 16 Aug 2009, smashing 16 fours and 7 sixes. It was an equalizing of highest individual score with Saeed Anwar, a record at that time.
8. Saeed Anwar 194
Saeed Anwar held the record for the highest ODI score till Sachin Tendulkar outdone him. The majestic left-handed opener put 194 run to his name from 146 balls against arch rival India on 21 May 1997. He paced his innings 5 sixes and 22 worth watching fours. He stays on number four in the list of top ten highest individual scores in ODI Cricket because he took 10 deliveries less then Charles Coventry to score the same figure.
7. Sachin Tendulkar 200*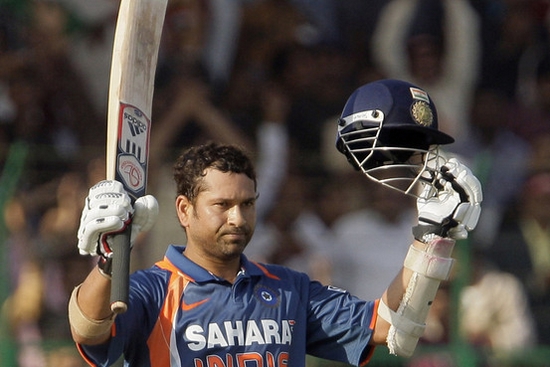 200 in ODI cricket is a record worth a player like Sachin Tendulkar. And the Sachin Tendulkar was the first one to achieve that landmark. Tendulkar`s 200* verses South Africa on 24 Feb 2010 was the first ever double century and 3rd highest individual score in ODI cricket. He did the miracle in 147 balls with the help of 25 fours and 3 sixes.
6. Rohit Sharma 208
Rohit  made it again against Sri Lanka in Mohali, on Wednesday December 13, 2017. By scoring another double ton in ODIs Sharma became the only batsman who score double tons hat-trick in One Day Internationals. In second ODI against Sri Lanka Rohit scored unbeaten 208 runs. He completed the landmark of 100 in 115 deliveries and in his next 38 deliveries, he collected an astounding 108 runs
5. Rohit Sharma 209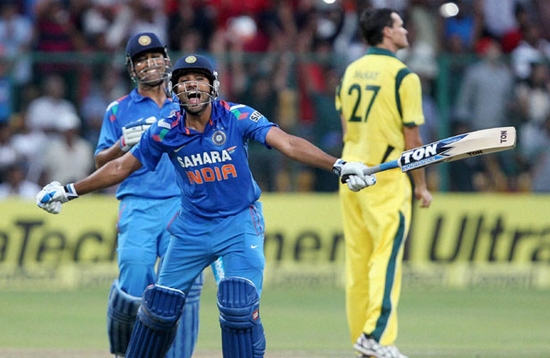 Oozing with batting talent Rohit Gurunath Sharma is the second highest individual run scorer. Indian batsman smashed 209 runs from just 158 against Australia on 2 Nov 2013. This is the 3rd double hundred in the history of ODI cricket. He blasted 16 huge sixes and 12 boundaries in his 209 run innings.
4. Chris Gayle 215
The Jamaican boy Chris Gayle smashed 215 runs at just 147 ball against Zimbabwe in ICC Cricket World Cup 2015. Gayle also slapped 16 sky high sixes in his destructive innings. It is also 2nd highest individual score in the history of ICC Cricket World Cup.
3. Virender Sehwag 219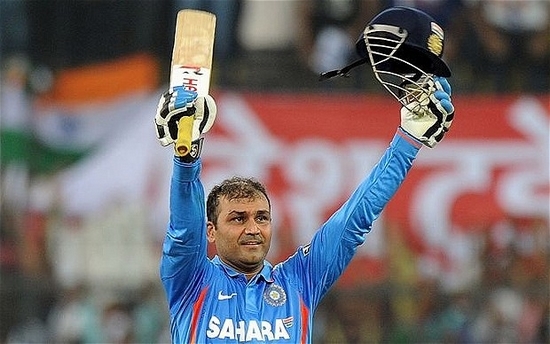 Indian right-handed opening batsman, Virender Sehwag, snatched the record of highest individual score in ODIs. His 219 off 149 balls is the third highest individual score till the date by any batsman in One day international. He scored the 2nd double century of ODI history against West Indies on 8 Dec 2011. 25 boundaries and 7 sixes were part of that innings.
2. Martin Guptill 237*
Martin Guptill's blazing 237 not out off just 163 balls are the second highest individual score in the history of ODI cricket. The Kiwi right handed opener smashed 6th double hundred in ODIs against West Indies in the final quarter final of World Cup 2015.
1. Rohit Sharma 264
At no 1 position in the list of highest individual scores in ODI cricket, we have again Indian Opener Rohit Sharma. Rohit hit 264 in 4th ODI against Sri Lanka on 13th November 2014. He beat the previous record of 219 made by Virender Sehwag against West Indies in 2011. Rohit also become only player who hit two double centuries in ODI cricket. He is the first player who scored over 250 runs in DOI.  He smashed 264 runs at 173 balls included 32 fours and nine sixes.