The 2014 Asian Games, officially known as the XVII Asiad held from September 19-October 4 in the anchorage city of Incheon, South Korea. The opportunity to host the 17th edition of Asian Games 2014 was availed by Incheon after beating India's New Delhi with a margin of 35-13 votes in bidding. This sporting event cum festival is considered to be a fine opportunity for regional harmony and cooperation. With the motto 'Diversity Shines Here', a total of 439 events in 36 sports and disciplines are set to feature in the Games. These include:
Aquatics, Diving, Swimming, Synchronized swimming, Water polo, Archery, Athletics, Badminton, Baseball, Softball, Basketball, Bowling, Boxing, Canoeing, Sprint, Slalom, Cricket, Cycling, BMX, Mountain bike, Equestrian, Jumping, Fencing, Field hockey, Football, Golf, Gymnastics, Handball, Judo, Kabaddi, Karate, Modern pentathlon, Rowing, Rugby sevens, Sailing, Sepaktakraw, Shooting, Squash, Table tennis, Taekwondo, Tennis, Soft tennis, Triathlon, Volleyball, Beach volleyball, Weightlifting, Wrestling and Wushu. Hoping for this edition of Asian Games to be one of the best ever of its kind.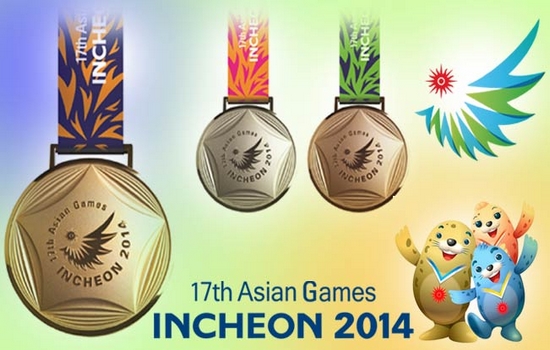 The 17th edition of Asian games has been ended at Incheon, South Korea with the supremacy of China. China has topped the medal table for the ninth successive times with a total of 342 medals including 151 gold, 108 silver and 83 bronze. Hosts South Korea came second with a distant margin from table-toppers China. Their medal tally touched 234 including 79 gold, 71 silver and 77 bronze. Japan ended with 3rd position at medal table, who took their medal tally to 200 including 47 gold, 76 silver and 77 bronze. Here is the final medal tally of Asian Games 2014.
Asian Games 2014 Medals Tally
| | | | | | |
| --- | --- | --- | --- | --- | --- |
| Rank | Country | Gold | Silver | Bronze | Total |
| 1 | China | 151 | 108 | 83 | 342 |
| 2 | Korea | 79 | 71 | 84 | 234 |
| 3 | Japan | 47 | 76 | 77 | 200 |
| 4 | Kazakhstan | 28 | 23 | 33 | 84 |
| 5 | Iran | 21 | 18 | 18 | 57 |
| 6 | Thailand | 12 | 7 | 28 | 47 |
| 7 | DPR Korea | 11 | 11 | 14 | 36 |
| 8 | India | 11 | 9 | 37 | 57 |
| 9 | Chinese Taipei | 10 | 18 | 23 | 51 |
| 10 | Qatar | 10 | 0 | 4 | 14 |
| 11 | Uzbekistan | 9 | 14 | 21 | 44 |
| 12 | Bahrain | 9 | 6 | 4 | 19 |
| 13 | Hong Kong | 6 | 12 | 24 | 42 |
| 14 | Malaysia | 5 | 14 | 14 | 33 |
| 15 | Singapore | 5 | 6 | 13 | 24 |
| 16 | Mongolia | 5 | 4 | 12 | 21 |
| 17 | Indonesia | 4 | 5 | 11 | 20 |
| 18 | Kuwait | 3 | 5 | 4 | 12 |
| 19 | Saudi Arabia | 3 | 3 | 1 | 7 |
| 20 | Myanmar | 2 | 1 | 1 | 4 |
| 21 | Vietnam | 1 | 10 | 25 | 36 |
| 22 | Philippines | 1 | 3 | 11 | 15 |
| 23 | Pakistan | 1 | 1 | 3 | 5 |
| 23 | Tajikistan | 1 | 1 | 3 | 5 |
| 25 | Iraq | 1 | 0 | 3 | 4 |
| 25 | United Arab Emirates | 1 | 0 | 3 | 4 |
| 27 | Sri Lanka | 1 | 0 | 1 | 2 |
| 28 | Cambodia | 1 | 0 | 0 | 1 |
| 29 | Macau | 0 | 3 | 4 | 7 |
| 30 | Kyrgyzstan | 0 | 2 | 4 | 6 |
| 31 | Jordan | 0 | 2 | 2 | 4 |
| 32 | Turkmenistan | 0 | 1 | 5 | 6 |
| 33 | Bangladesh | 0 | 1 | 2 | 3 |
| 33 | Laos | 0 | 1 | 2 | 3 |
| 35 | Afghanistan | 0 | 1 | 1 | 2 |
| 35 | Lebanon | 0 | 1 | 1 | 2 |
| 37 | Nepal | 0 | 0 | 1 | 1 |