The 2014-15 soccer season ended on high for Cristiano Ronaldo. Though his team was unable to win any titles, the Portuguese striker remained on top in terms of goal scoring. The 2014 Ballon d'Or winner finished La Liga season with Real Madrid as the season topper. Ronaldo scored a total of 48 goals leaving behind his old rival Lional Messi with 43. As for the Champions league, Cristiano Ronaldo also finished as the joint top scorer of the season with Leo Messi having 10 goals each.
Now looking at the statistics it can easily be concluded that the season 2014-15 has been individually great for Cristiano Ronaldo. His performance for national team has also been splendid and at present he stances as a strong candidate for FIFA Ballon D'or 2015. Besides his tireless goal scoring ability, what makes him real special is the way he celebrates his goals. Cristiano Ronaldo goal celebrations have achieved real variety since his move to the Real Madrid. These Cristiano Ronaldo goal celebrations have been often tried and copied by various sports persons around the World as well. This season the best Cristiano Ronaldo goal celebrations moves have been 'the CR7 Jump' and 'Calma Calma'. Full list of best Cristiano Ronaldo goal celebrations is as follows.
Best Ever Cristiano Ronaldo Goal Celebrations
The Claw

Though abandoned for quite a few time now, this Cristiano Ronaldo goal celebration move was often linked to his son Cristiano Ronaldo junior. Perhaps trying to climb and get out of the cradle.
The Fist Pump

A little mainstream still powerful, the fist pump seems totally a reflex action. The adrenaline level getting real high in pressure situations might have led to this move.
The Shusher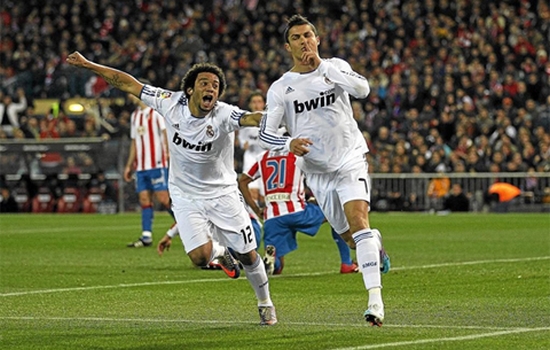 One of the most heated up Cristiano Ronaldo goal celebration ever is the Shusher. Cristiano Ronaldo faces the booing and sledging of fans especially in away games. The best way to shush them all up? Score a goal and shut their scorn at once.
The Deaf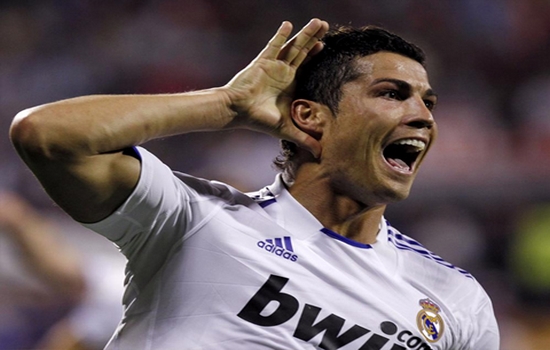 Perhaps the best way to overcome the critics. Scoring goals after goals and making a gesture which roars itself" can't hear ya' haters".
The Hoofers
Cristiano Ronaldo's dance skills are no more a secret. His latest brand advertisement can easily be seen orated up with some serious level of dance moves. With the young bloods of Real Madrid James Rodriguez and Marcelo, CR7 often celebrates his goals with some amazing dance steps.
The Sliding Machine
Though invented long time ago, this goal celebration is still used by Cristian Ronaldo and many other players. Sliding down the wet grass on the edge of ground after scoring.
Calma Calma
Another cool Cristiano Ronaldo goal celebrations. Signaling calm down gesture towards the intense fans after scoring a goal in a cool, stable mode. The move is also a suggestion for the faultfinders to keep their mouths sealed.
The CR7 Jump
The trade mark Cristiano Ronaldo goal celebrations, CR7 jump has been tried by large number of athletes till now. If not gone through carefully the move can be dangerous causing some serious hamstrings. So it is strongly advised that let the legend CR7 do it by himself.
Checkout the video for Cristiano Ronaldo goal celebrations
Cristiano Ronaldo goal celebrations by sardar-rowais