James Rodríguez Early Days: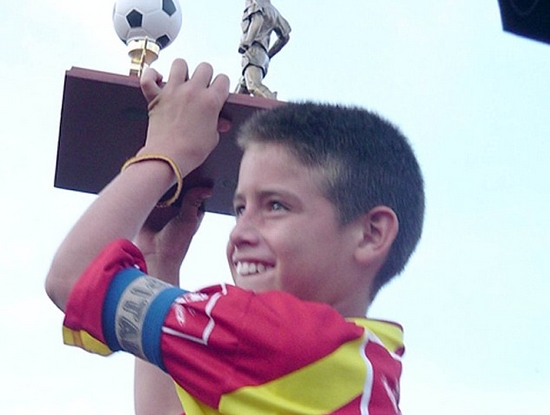 James David Rodríguez Rubio usually known as James Rodríguez or simply James is a Colombian footballer who plays for Ligue 1 club AS Monaco and the Colombian national team, playing as attacking midfielder or winger.he was born on 12 July 1991 in Cúcuta, Colombia.
Rodríguez is stared as one of the best young players of present era in football world. He has received admiration for his technique, vision and playmaking skills. Experts see him as the successor of Carlos Valderra.
National U-20 Team:
He was selected for Colombia national U-20 team football. He captained his side in 2011 Toulon Tournament and steered to win the event. He eventually captained the U-20 team during the 2011 FIFA U-20 World Cup and displayed remarkable performance.
Football Club Porto:
Rodríguez started his club career for Porto in 2012. He was nominated the best player in the Portuguese Primeira Liga and won the Portuguese Golden Ball. He is the youngest player to won that award. Rodríguez moved from Porto to Monaco in 2013 for a transfer fee of 45 million Euros. He is second most expensive Colombian in history after Radamel Falcao.
Rodríguez scored his first goal in European football in a 3–1 home victory for Porto against CSKA Sofia on 15 December 2010. Rodríguez made a hat-trick in 2011 Taça de Portugal Final against Vitória de Guimarães in a 6–2 win of Porto., Rodríguez scored 14 goals for Porto and delivered 11 assists In the 2011–12 season. Rodríguez won the LPFP Accolade for Breakthrough Player of 2011–12 Primeira Liga season. Rodríguez is the first Colombian player to win the award at the age of 20. He is also the two time winner of the SJPF Player of the Month. In 2012, Rodríguez again won the Portuguese Golden Ball award. He is the youngest player ever to hold the honor. He accomplished the season scoring 10 goals and providing 13 assists in 24 league matches. In 2012–13 he scored 13 goals and provided 15 assists within 32 games for Porto which led the side to win the league title.
Football Club AS Monaco:
James Rodríguez joined French side AS Monaco for a transfer fee of €45 million in May 2013.this made him most expensive transfers in the club's history .he is also most expensive player in Ligue 1 history, also one of the highest in world football. French media, stated Rodríguez as 'perhaps' the best footballer in Ligue 1.
James Rodríguez Colombian National Team:
On 29 September 2011, Rodríguez was selected for senior side, to play a match against Bolivia on 11 October 2011. Rodríguez was nominated as the man of match, having made an impressive performance. He scored his first goal for Colombia against Peru. Rodríguez assisted two goals in World Cup qualifying match against Uruguay that ended 4–0 win for Colombia. Rodríguez again scored a stunning goal against Chile leveling the game to a 3–1 victory. In the match against Paraguay, Rodriguez set up the plays leading towards both goals in a 2-0 victory. Rodríguez assisted the sole goal allowing Colombia to tie with 2014 World Cup hosts Brazil 1–1. He also scored against Ecuador, Tunisia Chile and assists against Paraguay and Belgium. Before the World Cup, Rodríguez scored yet another penalty in a 3–0 victory over Senegal in a friendly match.
FIFA World Cup 2014:
Rodríguez was named in Colombia's squad for the 2014 FIFA World Cup. He was assigned the iconic number 10 jersey. Colombia's first match of the world cup 2014, Rodríguez provided assistance in first two goals and also scored a last-minute goal to ensure a 3–0 victory over Greece. Rodríguez scored one goal and helped in setting up a second goal in a 2–1 victory over Ivory Coast he was named man of the match by FIFA in both matches .in the match against Japan, Rodríguez not only   assisted two goals but also scored the final goal in a 4–1 victory. At the end of the group stage, Rodríguez was ranked as the best performing player at the tournament by FIFA.
Rodríguez scored both goals to defeat Uruguay 2–0 in knockout round and led Colombia to its first ever World Cup quarter-final.With these two goals , Rodríguez became the first player to score in all opening matches of his team since Ronaldo and Rivaldo .His volleyed opening goal was described as "one of the greatest goals the World Cup has ever seen" by Uruguay manager Óscar Tabárez, who also called Rodríguez "the best player in the World Cup". In this match Rodríguez was named by FIFA as man of the match for the third time in four matches. Colombia's fairy tale ended in the quarter-final against Brazil, where he scored his sixth goal of the tournament and became the top goal scorer in the world cup 2014.
Despite the Colombia's defeat James received a standing ovation from the home crowd, ending his first world cup campaign with 6 goals and 2 assists in 5 matches.
"The Next El Pibe' Valderrama":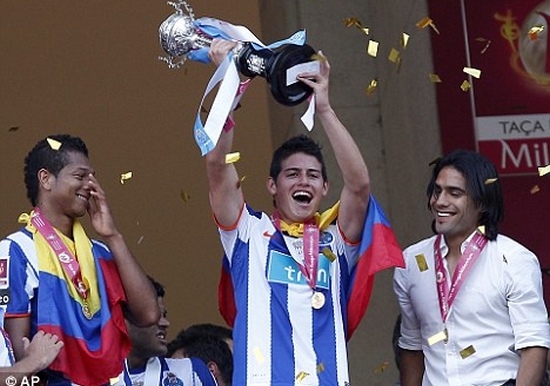 Uruguay's manager Óscar Tabárez praised James after scoring both goals in his side's loss as:
"For me, special talents are those who do things that are completely out of the ordinary. Diego Maradona, Lionel Messi, Luis Suarez, and James Rodriguez – they do things because they have certain gifts that make them special. I believe he's the best player at the World Cup and I don't think I'm exaggerating; he's a young player. We tried to limit his influence, but he kept going and made his presence felt. Hopefully he'll continue to progress, because he's very young. Football needs players with these characteristics."
The Colombian Legend El Pibe' Valderrama admired James Rodríguez as:
Colombia doesn't need a new "El Pibe" anymore because James is that "kid" that the national team has been missing in recent years. He's often consistent, incredibly talented, and he's got more passion than any other player I've seen in all my years of playing and coaching professional football. James has the potential to be the greatest Colombian player to have ever lived, and perhaps as one of the greatest to have ever played the game."
Media Appreciation for James Rodríguez:
The New York Times wrote: "James Rodríguez Might Be a Perfect No. 10 the Colombian is the most effective player of this tournament, and also one of the most pleasing to watch. He has scored five goals in four games. He has created goals for others. He is the fresh face at the center of Colombia's hip-shaking goal celebrations."
The Sunday Times stated about James as:"Colombia has had James Rodriguez, probably the player of the tournament"
You may also like: