Cristiano Ronaldo's Charities and Donations
Real Madrid's striker Cristiano Ronaldo is one of the most earning athletes at the planet. He is the richest footballer in the world. He has generated dozens of assets during his long soccer career. According to Goal.com his total wealth is over €210 million.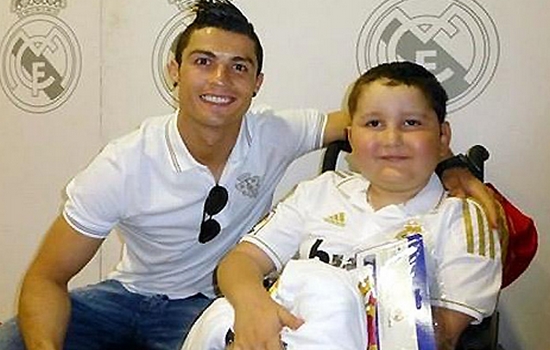 Cristiano Ronaldo has a kind and generous heart. Beside he is accumulating a lot of money from soccer's world and different endowment deals. He is also spending a handsome amount in different charities and donations for needy people. Here are the some details of Cristiano Ronaldo's charities and donations.
Cristiano Ronaldo's Charities and Donations
Real Madrid's star donated his boots and a signed jersey for a 10-month-old boy needing brain surgery.  He also donated $83,000 to cover the operation and also offered to pay for follow-up treatments at $8,000 a visit.
Ronaldo actively participated in fund raising campaign for the reconstruction of Aceh, Indonesia following the 2004 earthquake and tsunami.
In 2008 when he won a libel suit against a British tabloid, he donated the money to a charity in the Portuguese archipelago where he was born. A year later he gave more than $165,000 to fund a cancer center at the Portuguese hospital that treated his mother.
In 2012 the FIFA Ballon d'Or winner also helped a nine-year old Canaria native who was suffering from cancer of the spine.
In 2012, he sold the Golden Boot he won in 2011 for €1.5million to donate the funds to Palestinian school children in Gaza.  He is also involved in FIFA's '11 for Health which aims to raise awareness to children regarding drug addiction, HIV and obesity.
Cristiano Ronaldo is consistently involved in some of the major charitable organizations like "Aid Still Required", Cahonas Scotland, Save the Children, UNICEF and "World Vision". He not only donates millions of dollars to these charity organizations but also actively participates in their fund raising campaigns.
Ronaldo is one of few modern day footballers who haven't any tattooed in the name of fashion.
The reason why: "I don't have tattoos because I donate blood very often," he once said, according to Diretta News.
In short, CR7 is not only a good footballer but he is also a good human. He has a golden heart and a generous soul in his athletic body.
The charities and donations of Cristiano Ronaldo are continuous for humanity. Recently he donated seven million Euros to victims of deadliest Earth Quake in Nepal.
Another good deed by Cristiano Ronaldo, he donated his shirt to boy who kept playing football during earthquake in Nepal. CR7 fan Jetin Shrestha was playing football when the Nepal earthquake struck in April, and he continued unaware to the disaster that would take the lives of nearly 10,000 people.
When Ronaldo heard of Jetin's dilemma, he sent him a signed shirt with the message, "Jetin be strong, best wishes. Cristiano Ronaldo."
Ronaldo has already donated the £5 million in Nepal earthquake relief fund. This is the reason Cristiano Ronaldo has declared the most charitable athlete in 2015.
Keeping the tradition alive, the man with golden heart; Cristiano Ronaldo donated his full 600 grand bonuses for winning the UEFA Champions League to an NGO. Ronaldo is the role model for other athletes not as a player but also as a human. He is serving the humanity as he is already declared the most charitable athlete in the world in last year. Hats off Ronaldo. This is the reason he is most famous athlete in the world.