Ronda Rousey is one of the best UFC fighters ever, the most dominant one when we speak about the female division in Octagon. The 29 year old former UFC Bantamweight Champion is a force of nature gifted with the fighting skills that could prove deadly for any opponent. Though she is not invincible as we already have witnessed her shock loss to Holly Holm last year, she is undoubtedly one of the best UFC fighters ever. Voted as the best female athlete ever for the year 2015, the American Judo queen is soon to return in Octagon probably later this year in November. Besides getting global fame for his unmatched fighting skills inside the ring, Ronda Rousey has made quite a reputation as an actress and model outside of UFC. However the fame she is getting today is the outcome of struggle she had earlier in her life. The facts that make her almost unconquerable and certainly one of the best UFC fighters, goes as under.
Best UFC fighters Ronda Rousey facts:
10. Judo is in her blood
One of the main reasons Ronda Rousey is one of the best UFC fighters is the support she's got from her family. Her mother AnnMaria De Mars was the first U.S. citizen to win a World Judo Championship in 1984. Ronda Rousey inherited the fighting skills from her mother opting them as her natural reflexes when being in a fight.
9. She could not speak until she was 6
The highest paid UFC fighter for 2015 had a very tough childhood, probably one of the reasons she is temperamentally so much stronger now. Ronda's umbilical cord was wrapped around her neck at birth, which cut off oxygen to her brain and caused a slight learning disability that prevented her to speak until she turned 6 year old.
8. Ronda lost her father at 8
Soon after overcoming her personal disability Ronda Rousey had to face yet another heartbreaking loss at the age of only 8 years. Her father having paralyzed himself after breaking his back took his life rather than going through the paralysis he had to live with.
7. The Olympic medalist
Carrying her mother's legacy Ronda Rousey started her career as the professional judo fighter before her days into UFC. She won a bronze medal at the 2008 Beijing Olympic Games, becoming the first American woman to win a medal in Judo. She was then retired from Judo at the age of just 21 years.
6. She is on the cover of 'UFC 2'
Though for many it might be a common thing to witness but for a female to appear as the best fighter means a lot. Making a name into a profession like UFC and MMA for a woman is not a piece of cake. Ronda Rousey is proud of her achievements and self-adored as well. "It's surreal to see myself on the cover. For a woman to be on the cover of a UFC video game, it shows a lot of progress."
5. UFC's trend sitter
Another reason that put Rousey on top of the best UFC fighters list is that she is the trend sitter for making women's way into UFC. After sharpening her Judo skills Ronda opted to go pro in UFC and became the first lady to make it to the Ultimate Fighting Championship arena. In 2012, Rousey became the first female fighter to sign with UFC and was awarded the inaugural women's bantamweight championship.
4. A real dare-devil
Like her ultimate dominance in the octagon, Ronda Rousey is a dare devil into the real life as well. Her boldness as a person in a male dominant society is what makes her one of the most bad-ass fighter in history. After winning the ESPY for Best Fighter Ronda Rousey even went on to verbally knockout Floyd Mayweather in 2015 saying "I can't help but really say that I wonder how Floyd feels being beat by a woman for once. I'd like to see you pretend to not know who I am now."
3. Loaded with deadly moves
Being one of the best UFC fighters, Ronda Rousey is an elite athlete as well loaded with some deadly moves to knock her opponents out. However her most favorite move is the armbar signature move that has ended her 9 out of 12 successful fights so far. That move too is the gift from her mother as during her childhood she used to wake Ronda up in the night for practice and only let her sleep until she had locked or escaped an armbar submission.
2. 12 out of 13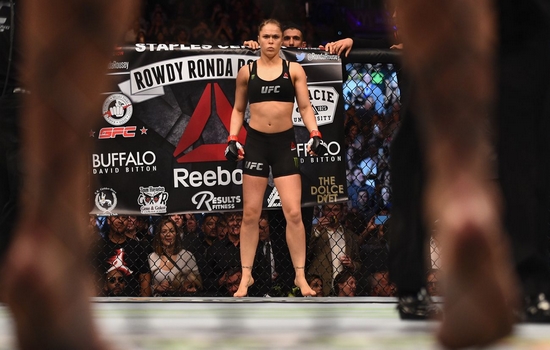 Ronda Rousey was regarded as one of the best UFC fighters as well as the invincible one until last year when she lost to Holly Holm. However despite losing the title her professional record is still a shiny one. In her 13 professional bouts at UFC she has lost just one until now. Interestingly of all 12 won fights, only one of her opponents were able to survive unto the second round of the fight.
1. The most dominant force in UFC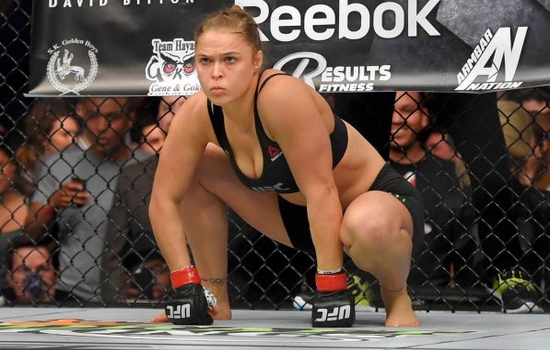 The most dominant she is that's why she is one of the best UFC fighters in history. As admitted by the UFC president besides the whole world, Ronda Rousey was the biggest star UFC ever had. She has won her 12 out of 13 fights so far and only one of the winning has entered into the second round of the match. She holds the UFC record for fastest submission in championship history. She tapped out Cat Zingano with an armbar in just 14 seconds, two seconds faster than when she TKO'd Alexis Davis in 16 seconds.