The Kiwi batsmen have set a new world record by hitting 18 sixes in one innings of any test match against Pakistan during third day of 3rd Test Match at Sharjah on 29 November 2014. The skipper Brendon McCullum smashed a double-hundred but Kane Williamson missed his by eight runs as New Zealand posted their highest total against Pakistan in the match.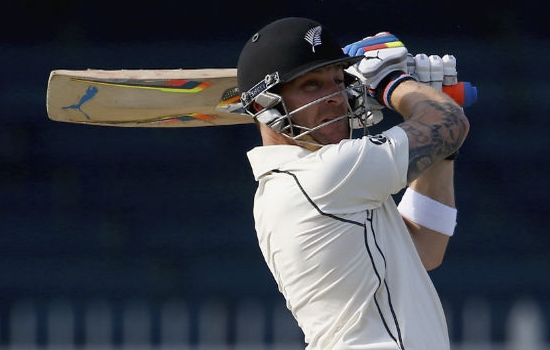 McCullum hit 188-ball 202 while Williamson made 192 as New Zealand closed the third day at 637-8 with a world record of 19 sixes in an innings. Kiwi batsmen broke the Australian record of 17 sixes in innings. Prior to that Australia made smashed 17 sixes in an innings against Zimbabwe in 9 October 2003 at Perth.
Former Pakistani all-rounder and all time legend Wasim Akram has the record of maximum sixes in an innings of a test match. Wasim Akram has smashed 12 sixes in an innings against Zimbabwe on 17th October 1999. New Zealand's skipper Brendon McCullum is at no 2 along with NJ Astle and ML Hayden with 11 sixes each in one innings.
Records of the Most Sixes in an Innings
| | | |
| --- | --- | --- |
| Team | 6s | Opposition |
| New Zealand | 19 |  Pakistan |
| Australia | 17 |  Zimbabwe |
| Pakistan | 15 |  New Zealand |
| India | 15 |  Sri Lanka |
| South Africa | 15 |  West Indies |
| Pakistan | 13 |  Zimbabwe |
| New Zealand | 13 |  South Africa |
| Pakistan | 13 |  England |
| New Zealand | 12 |  England |
| Pakistan | 12 |  India |
| Pakistan | 12 |  Sri Lanka |
| South Africa | 12 |  Australia |
| South Africa | 12 |  India |
| Australia | 12 |  England |
| England | 11 |  New Zealand |
| Australia | 11 |  Pakistan |
| West Indies | 11 |  India |
| Pakistan | 11 |  India |
| New Zealand | 11 |  Zimbabwe |
| Australia | 11 |  South Africa |
| Pakistan | 11 |  India |
| West Indies | 11 |  India |
| South Africa | 11 |  Pakistan |
| Australia | 11 |  South Africa |
| Sri Lanka | 11 |  Bangladesh |
| West Indies | 10 |  New Zealand |
| West Indies | 10 |  England |
| New Zealand | 10 |  England |
| Pakistan | 10 |  Sri Lanka |
| South Africa | 10 |  Zimbabwe |
| West Indies | 10 |  India |
| England | 10 |  Australia |
| West Indies | 10 |  Pakistan |
| West Indies | 10 |  New Zealand |
| Australia | 10 |  England |
| New Zealand | 10 |  India |
| West Indies | 10 |  New Zealand |
Most Sixes in an Innings by a Player
| | | | | |
| --- | --- | --- | --- | --- |
| Player | Runs | 6s | Team | Opposition |
| Wasim Akram | 257* | 12 | Pakistan |  Zimbabwe |
| BB McCullum | 202 | 11 | New Zealand |  Pakistan |
| NJ Astle | 222 | 11 | New Zealand |  England |
| ML Hayden | 380 | 11 | Australia |  Zimbabwe |
| WR Hammond | 336* | 10 | England |  New Zealand |
| CL Cairns | 120 | 9 | New Zealand |  Zimbabwe |
| Inzamam-ul-Haq | 329 | 9 | Pakistan |  New Zealand |
| TG Southee | 77* | 9 | New Zealand |  England |
| CH Gayle | 333 | 9 | West Indies |  Sri Lanka |
| NS Sidhu | 124 | 8 | India |  Sri Lanka |
| AC Gilchrist | 204* | 8 | Australia |  South Africa |
| KC Sangakkara | 319 | 8 | Sri Lanka |  Bangladesh |