LeBron James is one of the best basketball players in the history of National Basketball Association (NBA). During his 12-year career in NBA, James has won two NBA championships, four NBA Most Valuable Player Awards, two NBA Finals MVP Awards, two Olympic gold medals, an NBA scoring title, and the NBA Rookie of the Year Award. He has also been selected to 11 NBA All-Star teams, 11 All-NBA teams, and six All-Defensive teams, and is the Cavaliers' all-time leading scorer.
LeBron James Net Worth


The net worth of King LeBron is not known; it has been estimated that LeBron James net worth is over $300 million anywhere from $270 million (from 2013-14) to$375 million.
LeBron James is not only a big name in NBA but also equally popular in endorsement industries. He earns millions of dollars from endorsements too. These deals made him one of the richest athletes in the world. James has made nearly $150 million in NBA salary and over an estimated $300 million in his many endorsements.
James made $72 million in 2014; this ranked him in top three highest-paid athletes in 2014 along with Mayweather and Cristiano Ronaldo. He made $19 million in his day job as a basketball player and $53 million more in off-the-court endorsements. LeBron is likely in for a bigger year in 2015 as his NBA salary jumped about $1.5 million.
After 4 seasons in Miami, King James signed a 2-year, $42.1 million contract with the Cleveland. In 2016James will become a free agent, when the NBA's new TV deal begins. It's safe to say, he is absolutely going to cash in.
LeBron James Salaries in NBA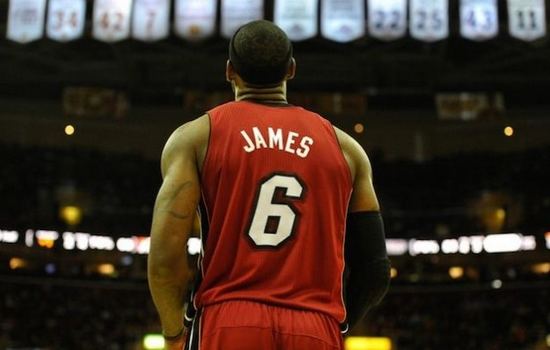 In his 12 seasons in NBA, LeBron has made over $145 million in basketball earnings alone. Here's his year-by-year salary.
2003-04 Cleveland Cavaliers — $4,018,920
2004-05 Cleveland Cavaliers — $4,320,360
2005-06 Cleveland Cavaliers — $4,621,800
2006-07 Cleveland Cavaliers — $5,828,090
2007-08 Cleveland Cavaliers — $13,041,250
2008-09 Cleveland Cavaliers — $14,410,581
2009-10 Cleveland Cavaliers — $15,779,912
2010-11 Miami Heat — $14,500,000
2011-12 Miami Heat — $16,022,500
2012-13 Miami Heat — $17,545,000
2013-14 Miami Heat — $19,067,500
2014-15 Cleveland Cavaliers — $20,644,400
2015-16 Cleveland Cavaliers — $21,573,398
Beside his salary from NBA he also earns a handsome amount from TV commercials from his sponsors. His major endorsement deals include, or have included, Nike, McDonald's, Coca-Cola, and Beats by Dre, Microsoft, State Farm, Dunkin' Donuts and Samsung.

He also sold his Florida estate for $13.4 million. The 12,000-square foot mansion comes with 6 bedrooms, 8 bathrooms, a guest house, bay views, a private dock, an elevator and a heated pool. The starting price tag was $17 million but finally it was sold for $13.4 million. Now James and his family live in a $9 million, 30,000 square foot mansion in Bath Township, Ohio.