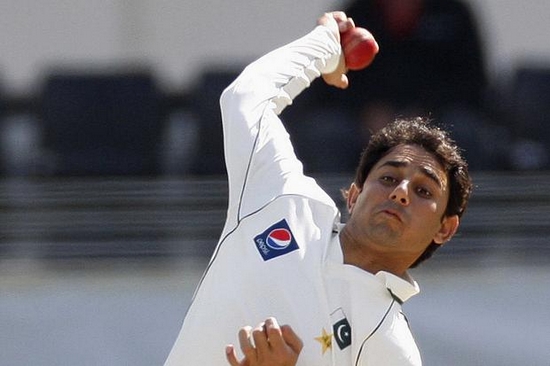 Pakistan's off-spinner Saeed Ajmal who has been suspended by ICC for his illegal bowling action, is almost set to get in action again. According to Pakistan Cricket Board (PCB) the star performer has been working really hard and has managed to modify his bowling action. Saeed Ajmal's new bowling action will be tested shortly. PCB Chairman Shehryar Khan told the journalists that PCB will first send Saeed Ajmal for an informal review and once he gets it cleared ICC will be asked again to check. The question however whether Ajmal will be as effective as before and legality of his famous Doosra is still under doubts.
Saeed Ajmal was reported for chucking in August and subsequently banned to bowl in every format of game in September. Ajmal is Pakistan's leading wicket-taker in all formats of the game over the course of last three years. And in his absence Pakistan had to face a 3-0 defeat in ODI series against Australia in UAE earlier this month. Pakistan Cricket Board seems indeed concerned about the future of Ajmal as he is being considered the most lethal weapon of Team Pakistan. ICC Cricket WorldCup 2015 being not so far to come, the Board's fear is pretty valid. Soon after the ban being imposed on Ajmal, PCB hired former off-spinner Saqlain Mushtaq to help Ajmal correct his Bowling action. Saqlain Mushtaq who is considered to be the originator of Doosra has given green signal about the return of Saeed Ajmal. In Shehryar Kahn's words "Saqlain has given a positive report that Ajmal has managed to remodel his bowling action to within the permissible limits of ICC. He and Ajmal are both ready to go for the informal tests."(Watch video Here)
On the other hand West Indian Cricket Board has also shown interests in hiring Saqlain Mushtaq for the correction of Sunil Narine's illegal bowling action. Sunil Narine was also reported for suspicious bowling action during CLT20. Reports show that he will be joining the Caribbeans once his contract with PCB ends.