This article is about the fastest deliveries bowled in the history of cricket. Pakistan, Australia and West Indies are those prominent nations who produce extra-ordinary fast-bowlers throughout the history. Shoaib Akhtar, Brett Lee, Shaun Tait, Jeff Thomson and Andy Roberts are among those fastest bowlers who earned ultimate repute for their fastest deliveries in cricket.

Bowling over 150km/h is an amazing sensation for a fast-bowler. You can imagine the feelings of a fast-bower who is bowling over 160 km/h. It's just awesome, marvelous, wonderful and mind-blowing. The history of cricket has seen many great fast-bowers that were fully equipped with skills and pace. But there are only a few bowlers in the history of cricket which are famous for their fast and furious bowling. These speed stars are assets for any nation and are sign of terror for any batting line. The fastest deliveries bowled by these speed stars in the history of cricket are as below.
The Fastest Deliveries Bowled in Cricket History
Shoaib Akhtar, Pakistan — 161.38km/h
Pakistani fast-bowler Shoaib Akhtar delivered the fastest ball in the history of cricket. He bowled his record fastest delivery against England in a World Cup Group A match at Newlands Stadium, Cape Town South Africa on 22nd February 2003. "The Rawalpindi Express" bowled the fastest delivery officially recorded was clocked at 161.38 km/h (100.3 mph). It was the English Batsman Nick Knight who faced the fastest delivery of the cricket history. Shoaib's fastest delivery is officially recognized by the Guinness book of world records.
Shaun Tait, Australia — 161.1km/h
At No 2 spot in list of bowlers who bowled fastest deliveries in cricket history is Australian fast-bowler Shaun Tait. The opposition was again England. England's Andrew Strauss was facing the Tait during the 5th one-day international at Lord's Cricket Ground, London on July 3rd 2010, when he bowled a delivery with a speed of 161.1 km/h.
Brett Lee, Australia — 161.1km/h
Australian pacer Brett Lee also bowled one of the fastest deliveries in the history of cricket in 2005. Lee bowed his quickest at 161.1 km/h against New Zealand at Napier in 2005. His delivery was the 2nd fastest delivery and he joined the list with Shaun Tait. Brett Lee was not just quick but he is also a skillful bowler. His swinging abilities along with pace made him one of the most difficult bowlers of that era.
Shoaib Akhtar, Pakistan — 161.0
On April 27, 2002 Shoaib burst through the 100 miles-per hour (160.9344kph) barrier with a ball registering 161kph on a speed gun against New Zealand in Lahore. With that delivery Akhtar became the first ever bowler who crossed the 100mph barrier. He was clocked at 100.04(161km/h) in ODI against New Zealand. The 161kph ball was the sixth ball of Shoaib's second over whilst Craig McMillan was facing. The ICC has declined to make Shoaib's 161kph officially recognized.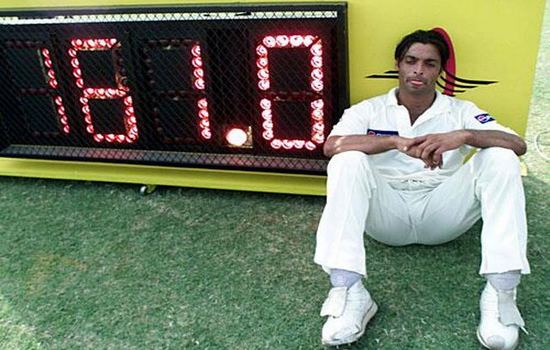 Shaun Tait, Australia — 160.7 km/h
One again in the list of fastest deliveries in cricket is Australian pacer Shaun Tait. This time he bowled a delivery of 160.7 km/h against Pakistan in a T20 at the MCG on 5 February 2010. This was the fastest delivery ever bowled in Australia.
Jeff Thomson, Australia — 160.6km/h
One of the fast and furious bowlers of all-time Jeff Thomson bowled the fastest delivery of cricket history. Thomson bowled this delivery in 1975, during a match against the West Indies, he was timed using high-speed cameras with a speed of 160.45 km/h; one year on in 1976, he was timed at 160.58 km/h again, using conventional radar. At that time there was no advance speed measuring devices. So the exact velocity of his deliveries cannot be predicted. According to former cricketers Thomson was the fastest bowler in the history of cricket-faster than Shoiab Akhtar or any other fast bowler in cricket history. According to them Thomson bowled upwards to 180km/h, but there isn't any certain proof.
Mitchell Starc, Australia— 161.4km/h
Australian Fast bowler Mitchell Starc bowled one of the fastest deliveries in the history of cricket. On Sunday, Nov 15, 2015 against New Zealand Starc bowled a ball having speed of 161.4 km/h.

Brett Lee, Australia — 160km/h
Brett Lee bowled his 2nd fastest delivery against New Zealand in 2005 in the same over in which he bowled his fastest delivery. Lee started his over at 143km/h, his 2nd ball clocked 151km/h, third and 4th are more faster 158 km/h. 5th ball is even faster and the radar clocked at 160km/h. And he became the 1st bowler to cross the barrier of 160 km/h in New Zealand. Lee didn't stop at this he completed the over with a speed of 161km/h, his fastest ever ball.
Andy Roberts, West Indies — 159.5km/h
One of the greatest West Indian bowlers of 70s and early 80s Andy Roberts bowled his fastest delivery of 159.5 km/h against Australia in Perth 1975.
Shoaib Akhtar, Pakistan — 159km/h & 158.4km/h
The Rawalpindi express appears again in the list of 'The Fastest Deliveries Bowled in Cricket History' as he bowled two deliveries at 159 km/h and 158.4 km/h in the 2011 ICC Cricket World Cup against Sri Lanka.
Fidel Edwards, West Indies — 157.7km/h
From the "West Indies Island" the nation which is known for brutal and furious bowling attack in the past ,the young and energetic Fidel Edwards makes into the list of The Fastest Deliveries Bowled in Cricket History'. Edwards is usually renowned for his aggressive, fast and attacking bowling style putting an extra fear in the hearts of the batters facing him. Fidel Edward's fastest ball came against South Africa in 2003
Mitchell Johnson, Australia — 156.8km/h
The mighty Ausses had always something extra ordinary in their bowling unit.one of the best fast bowler of the present era ,the tall left arm pacer Mitchell Johnson is next in the list of The Fastest Deliveries Bowled in Cricket History'. Johnson bowled his fastest delivery 158.8 kph at MCG against England.
Mohammad Sami, Pakistan — 156.4km/h
Despite having in and out of the national team due to lack of consistency, the Pakistani pacer Muhammad Sami is defiantly one of the fastest bowler in the game. His fastest delivery 156.4 km/h came out at Sharjah against Zimbabwe in April 2003.

Shane Bond, New Zealand — 156.4km/h
Kiwi's legend and once supreme leader of their bowling attack Shane Bond is also in this list. Having too many records on his name Bond is also in the list of fast bowlers' elite class who holds the records delivering fastest balls in the history. Shane Bond bowled his fastest delivery at 156.4 km/h in 2003 World Cup.
Dale Steyn, South Africa — 156.2km/h
Proteas right arm fast bowler Dale Steyn is final member of this elite class. He is one of the finest of the present era fast bowlers and equally loved by people in all parts of the world. Steyn is famous for his aggressive as well as swing fast bowling that has proven more lethal and devastating for the batsmen and hence nicknamed as "Steyn Gun".  His fastest delivery 156 km/h was recorded against New Zealand.