Height is an important factor for basketball players. At the professional level, most male players are above 6 feet 3 inches (1.91 m) and most women above 5 feet 7 inches (1.70 m). Almost all forwards in the men's pro leagues are 6 feet 6 inches (1.98 m) or taller. Most centers are over 6 feet 10 inches (2.08 m) tall. According to a survey given to all NBA teams, the average height of all NBA players is just under 6 feet 7 inches (2.01 m), with the average weight being close to 222 pounds (101 kg). Manute Bol and Gheorghe Mureşan were the tallest basketball players ever in the NBA history, who were both 7 feet 7 inches (2.31 m) tall. Hasheem Thabeet is the current tallest NBA player who stands at 7 feet 3 inches (2.21 m). At 7 feet 2 inches (2.18 m), Margo Dydek was the tallest player in the history of the WNBA. Check out the list of top 10 tallest basketball players in the history of NBA.
Tallest Basketball Players in The History of NBA
#1 Gheorghe Mureșan (7 ft 7 in)
Gheorghe Mureșan is a retired Romanian professional basketball player. At 7 ft 7 in (2.31 m), he is one of the tallest basketball players in NBA history, along with Sudanese player Manute Bol, who was also 7 ft 7 in. Gheorghe Mureșan considered slightly taller than Manute Bol.  Bol was officially measured at 7 feet, 6 ¾ inches tall by the Guinness Book of World Records. Gheorghe is a 19 in shoe sizes one of the biggest shoe size in NBA.
 He was selected by the Washington Bullets in the 1993 NBA Draft. He played in the NBA from 1993 to 2000 showing signs of a promising career that was derailed by injuries. His best season came in the 1994–1995 campaign, when he averaged 14.5 points per game.  He joined the New Jersey Nets for the final 31 games of his career. After ending his NBA career, Mureșan had another spell in the French league before returning to the United States with his family. He normally wore number 77, in reference to his height. On March 11, 2007, Mureșan played a game for the Maryland Nighthawks as part of the tallest lineup in the history of basketball. This is the only basketball game Mureșan has ever played where he was not the tallest person on the court, as Sun Mingming is 7′ 9″ (2.34 m)
#2 Manute Bol (7 ft, 6 ¾ in)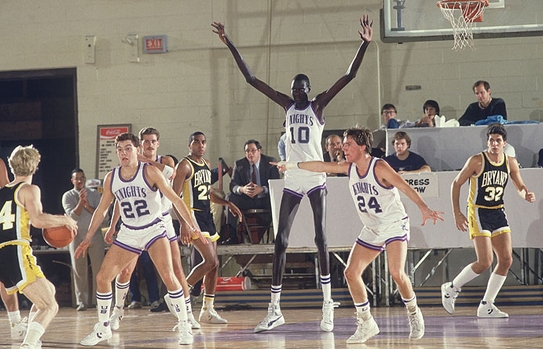 Manute Bol was a Sudanese-born basketball player and political activist. At 7 ft 7 in (2.31 m) tall, he was one of the tallest basketball players ever to play in the National Basketball Association, along with Gheorghe Mureşan. He was officially measured and listed at 7 feet, 6 ¾ inches tall in the Guinness Book of World Records. Bol played basketball for many teams over his career. He played for two colleges and four NBA teams. A center, he was known as a specialist player; he was considered among the best shot-blockers in the history of the sport, but other aspects of his game were considered fairly weak. Over the course of his career he blocked more shots than he scored points. He played in the NBA for ten years, from 1985–1995, spending parts of four seasons with the Bullets, parts of three with the Golden State Warriors, parts of four with the Philadelphia 76ers and part of one season with the Miami Heat.
#3 Shawn Bradley (7 ft 6 in)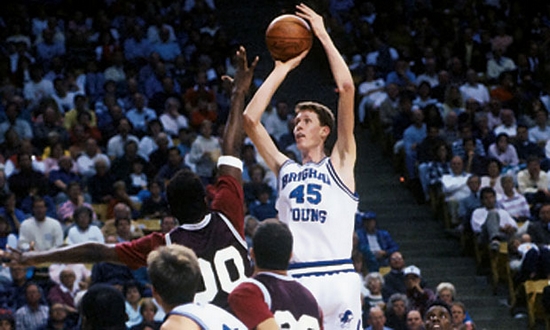 Shawn Paul Bradley is a retired American and German basketball player who played center for the Philadelphia 76ers, the New Jersey Nets and the Dallas Mavericks in the National Basketball Association. At 7 ft 6 in (2.29 m) tall, Bradley was one of the tallest basketball players in NBA history. For much of his career, Bradley was inconsistent in scoring and rebounding, but he always excelled at blocking shots. He averaged 10.3 points, 6.2 rebounds, and 3.0 blocks per game in his first season – good enough to earn NBA All-Rookie Second Team honors.
#4 Yao Ming (7 ft 6 in)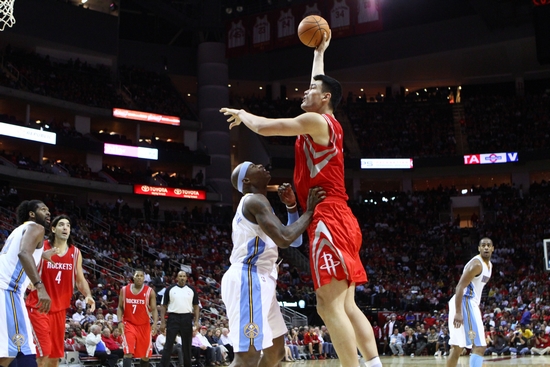 Yao Ming is a retired Chinese professional basketball player who played for the Houston Rockets of the National Basketball Association (NBA). He was one of the tallest players in the NBA; at (2.29 m) 7 ft 6 in Yao was selected by the Houston Rockets as the first overall pick in the 2002 NBA draft. In July 2011, Yao announced his retirement from professional basketball due to a series of foot and ankle injuries which forced him to miss 250 games in his last six seasons. In eight seasons with the Rockets, Yao ranks sixth among franchise leaders in total points and total rebounds, and second in total blocks.
#5 Chuck Nevitt (7 ft 5 in)
Chuck Nevitt is a retired American professional basketball player, known primarily for his great height. At 7 ft 5 in, he played the center position throughout his nine-year in the NBA and remains one of the tallest basketball players ever in NBA history. During his career, Nevitt played with the Houston Rockets, Los Angeles Lakers, Detroit Pistons, Chicago Bulls, a team in Forli, Italy and San Antonio Spurs.  Nevitt played in 16 playoff games, 7 with the Lakers and Pistons and 2 with the Rockets. He was a member of the 1985 Lakers' championship roster and is the tallest NBA player to ever win an NBA Championship.
#6 Pavel Podkolzin (7 ft 5 in)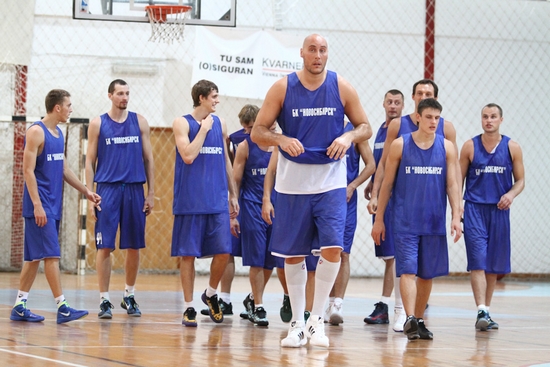 Russian professional basketball player Pavel Nikolaevitch Podkolzin played for Sibirtelecom Lokomotiv Novosibirsk. Formerly, he played in the NBA and the NBA Development League. He is a 7 ft 5 in (2.26 m) and 138 kg (304 lb) center. Podkolzin was considered to be high drafts pick in the 2004 draft because of his size, blocking ability and strength, but he was chosen late in the draft. Podkolzin averaged 6.0 rebounds in 14.0 minutes in his first two Las Vegas Summer League Revue games.
#7 Slavko Vraneš (7 ft 5 in)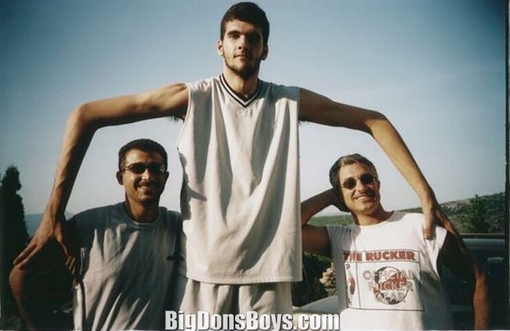 Slavko Vraneš is a Montenegrin professional basketball player. At 7 ft 5 in (2.26) m he is one of the tallest NBA players in the world. Vraneš was selected by the National Basketball Association's New York Knicks in the second round of the 2003 NBA Draft. He was waived by the Knicks in December 2003. In early January 2004, he signed a ten-day contract with Portland Trail Blazers. Before his contract expired, he played one game in the 2003–04 NBA season. From 2004 to 2007, he played with Budućnos Podgorica for the second time in his career. In October 2007, he signed a three-year contract with Partizan Belgrade In October 2011 he signed with Sanaye Petroshimi BC in the Iranian Super League. During 2013 he played with Metalac Valjevo. In October 2013 he signed with Zob Ahan Isfahan.
#8 Mark Eaton (7 ft 4 in)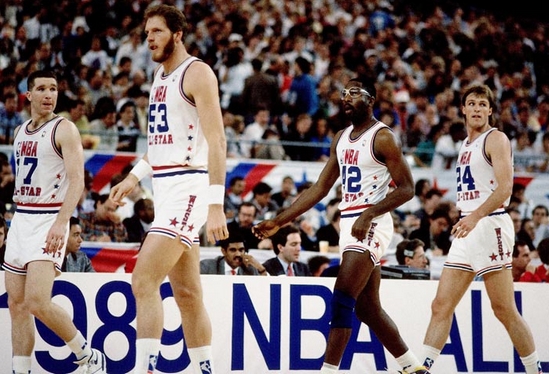 American professional basketball player Mark E. Eatonwas a member of the NBA's Utah Jazz from 1982 to 1993, with one NBA All-Star selection in 1989, and two NBA Defensive Player of the Year awards in 1985 and 1989. Though limited offensively, Eaton's 7 ft 4 in (2.24 m) height helped him become one of the best defensive centers in NBA history. At the time of his retirement, he ranked second all-time in league history in total blocked shots, behind Kareem Abdul-Jabbar's career total of 3,189.
#9 Rik Smits (7 ft 4 in)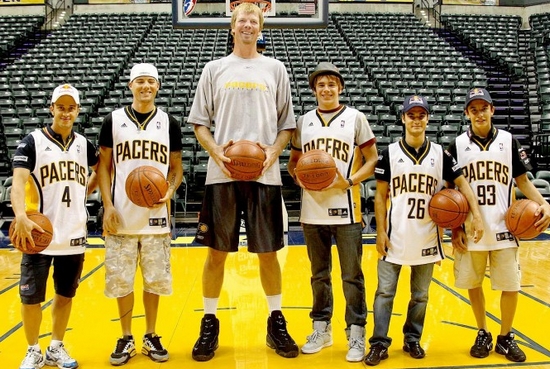 With a height of 7'4″ (2.24 m) Rik Smits  is one of the tallest  Dutch professional basketball player. He  spent his entire professional career with the Indiana Pacers of the National Basketball Association. The 7'4″ (2.24 m) center was drafted by the Pacers out of Marist College with the second overall pick in the 1988 NBA Draft. The Dutch-born player was nicknamed "The Dunkin' Dutchman". Smits was considered the number two player, behind Reggie Miller, on the deeply talented Pacers team. Smits' highest point-per-game average was in 1995–96 when he averaged 18.5 points per game.
#10 Ralph Lee Sampson (7 ft 4 in)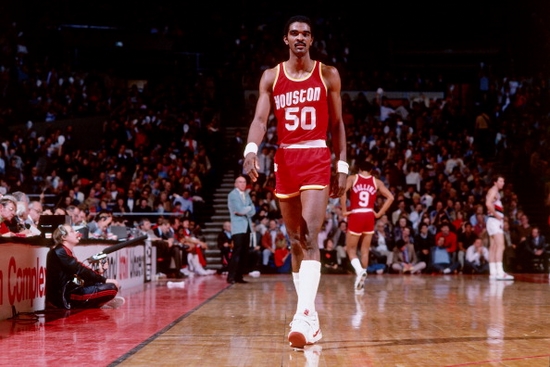 Ralph Lee Sampson is a retired American basketball player. At a height of 7 ft 4 in he was three-time College Player of the Year, and No. 1 pick in the 1983 NBA Draft. The NBA Rookie of the Year, Sampson averaged 20.7 points and 10.9 rebounds for his first three seasons with the Houston Rockets before injuries began to take their toll. Three knee surgeries later he retired a four-time All-Star whose career highlight ended up being a buzzer-beating shot to depose the Los Angeles Lakers as Western Conference champions, derailing their hopes for coveted back-to-back NBA titles and sending the Rockets to their second NBA Finals in the team's history.
#10 Priest Lauderdale (7 ft 4 in)
Former American professional basketball player Priest Lauderdale is one of the tallest athletes in basketball history. A 7′ 4″, 325 lb center, Lauderdale was selected 28th overall in the 1996 National Basketball Association Draft by the Atlanta Hawks, after playing collegiately at Central State University and professionally in the Greek League for Peristeri Nikas. Lauderdale played professionally in Bulgaria for Lukoil Academic from 2002 to 2005 and received Bulgarian citizenship.
Lauderdale was represented by Gary Ebert in his career as a basketball player. Lauderdale has also played in the CBA, China, Venezuela, Cyprus, Lebanon, Saudi Arabia, Iran, and the United Arab Emirates.