Tennis is one of the most popular sports in the world. Who don't like women tennis? The women tennis is becoming more and more popular every day. Well everybody has different reasons to watch tennis but mine are these hotties. These are top 7 hottest tennis players who glue us to the TV screens. There are many hot female tennis player around the world and lot of them have a huge fan following. It is rather a tough task to choose Top seven Hottest Female Tennis Stars of 2014 but I have picked these beauties as hottest tennis stars.
Top Seven Hottest Female Tennis Stars of 2014
7. Daniela Hantuchova
Daniela Hantuchová is a tennis player. She turned professional in 1999 and in 2002 she won her first WTA tournament, the Indian Wells Masters, becoming the lowest-ranked player to ever win the tournament. She was also part of the Slovak team that won the 2002 Fed Cup and the 2005 Hopman Cup. . She is the most successful Slovak tennis player of all time. She is now considered as one of the sexiest woman on earth. She takes elegance and beauty both in charming way to the court.
6. Caroline Wozniacki
Caroline Wozniacki is a Danish professional tennis player. She is a former World No.1. She was the first Scandinavian woman to hold the top ranking position and 20th overall. Wozniacki has won 21 WTA single titles.
One of the hottest tennis players is only 24 years old. Being young and sexy at one side one cannot neglect her tennis skills. She is no doubted taking along the hotness and tennis in the best way.
5. Sania Mirza
Asian beauty Sania Mirza is a professional Indian tennis player, well known for her powerful forehand ground strokes. She is the highest ranked female tennis player ever from India, with a career high ranking of 27 in singles and 7 in doubles. She is a sensational beauty and charming tennis player. She has a perfect toned hot body with great figure.
4. Serena Williams
Black beauty Serena Jameka Williams is an American professional tennis player who is currently ranked No. 1 in women's singles tennis by WTA. Born on September 26, 1981 in Saginaw, Michigan, Serena Williams began playing tennis at an early age. In 1995, Serena turned pro, and, along with her sister Venus. She is one of the world's best female tennis players. Williams is the reigning French Open, US Open, WTA Tour Championships and Olympic ladies singles champion.Williams holds the most Major singles, doubles, and mixed doubles titles combined amongst active players, male or female. She is one sexy woman that really got talent in tennis as well.
3 Maria Kirilenko
Maria Kirilenko is a Russian professional tennis player who is extremely beautiful and stunningly sexy. She stands 5ft. 8 in. tall and has a very hot and attractive body. She is a perfect combination of talented tennis player and beauty.
In 2001 she started her professional tennis career. Kirilenko won the 2002 U.S. Open Girls' Singles and won her first WTA Tour title in 2005. She also won a Bronze Medal at the 2012 London Olympics. In June 2013, Kirilenko reached her career high ranking of World No. 10.
2. Ana Ivanovic
Ana Ivanovic is a Serbian tennis player ranked No. 1 in the world in 2008 In June 2011, she was named one of the "30 Legends of Women's Tennis: Past, Present and Future" by Time. She won the 2008 French Open. She is the one of the hottest tennis players of the current age. When you look at her features and her figure I bet you won`t even want to blink your eyes. She is adorable and seductive.
1. Maria Sharapova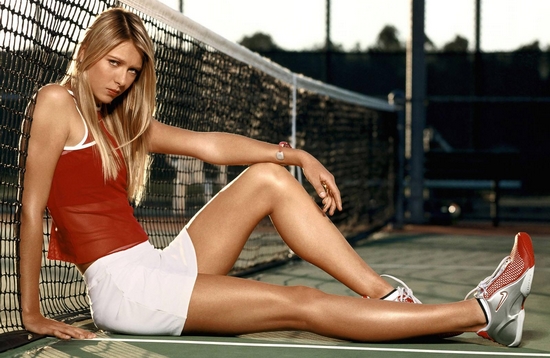 At no 1 position in the list of top 7 hottest female tennis stars of 2014, we have non other than Russian Queen Maria Sharapova. Sharapova is a Russian professional tennis player currently living in USA. Sharapova has won twenty-nine WTA singles titles, including four Grand Slam singles titles. The WTA has ranked Sharapova World No. 1 in singles on five different occasions, for a total of 21 weeks. Sharapova turned pro in 2001. She won an Olympic silver medal in the London 2012 Olympics.
Not only her tennis skills are superb but she is also recognized of her sexiness and awesome beauty. She is lofty in the court with a touch of glamor and sophistication as swings her racket powerfully. She exudes beauty that makes her fit to be called dynamic athlete sex symbol. She undoubtedly is princess of tennis.