The 15th edition of UEFA European Championship, the UEFA Euro 2016 is edging closer. The tournament is scheduled to be held in France from 10 June to 10 July 2016. First time 24 teams are going to contest the European Championship.
Although total of 24 teams are participating in 2016 UEFA European Championship, these include; the defending champions Spain, the host France and the FIFA World Cup Champions Germany. Here we made a UEFA Euro 2016 Power Rankings and selected top five teams which are favorite to win the crown. Enjoy and let us know how much you agreed with our UEFA Euro 2016 Power Rankings.
UEFA Euro 2016 Power Rankings:
5. England
At fifth position in UEFA Euro 2016 Power Rankings we have Roy Hodgson's men. England have plenty of individual talents. They have exciting young group in the form of Dele Alli and Harry, but there are persistent worries over the form of all-time top scorer Wayne Rooney and Hodgson is also far from settled on his best XI. Overall England can never be neglected from the title race.
4. Belgium
Top of the FIFA rankings and possessing one of the most talented players to emerge from any country over the past 20 years, Belgium have to be considered possible champions at the UEFA Euro 2016. They have world class players in the shape of Eden Hazard and Thibaut Courtois.  They also have some other young talents who may yet ascend to that bracket too in Kevin de Bruyne and Romelu Lukaku. Indeed Belgium is a true combination of skilled, experience and young talent. This is the reason they are considered one of the sides in UEFA Euro 2016.
3. Spain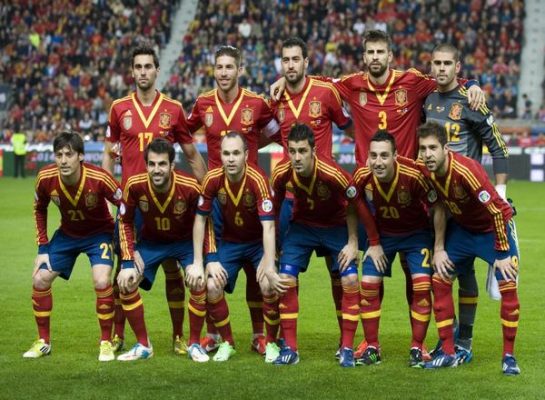 The current record of Spain is not impressive after 2014 World Cup. Their international dominance period has been ended in 2014 World Cup but defending champions has the ability to regain the European title. The retirement of Xavi and Xabi Alonso has given players like Thiago the space to showcase their talent and Vicente del Bosque has a huge pool of talent to pick from.
2. France
The hosts are 2nd in UEFA Euro 2016 Power Rankings. They have world class striker like Karim Benzema and best young talent at midfield Paul Pogba. They have the ability to destroy any defense line. At defend Les Bleus have Raphael Varane and Juventus midfielder Paul Pogba could well be the best players in the world in their respective positions in a few years.  The supporting cast includes Hugo Lloris, Kingsley Coman, Antoine Griezmann, Anthony Martial and Patrice Evra. Overall a perfect blend of experience and potential.
1. Germany
Germany is the most favorite team for the title and are at top position in our UEFA Euro 2016 Power Rankings. After World Cup 2014, Germany are also favorite for the European title too. Germen team is a complete and is decorated with some of the best players in the world like Schweinsteiger, Ozil, Gotze, Muller and Reus. Even if they don't quite elevate the sport to new artistic levels, Germany are accomplished attackers and masters of control, and in Toni Kroos they have the player who has succeeded Xavi as the best passer in the game. All these make the German side the hot-favorite for European title.