The Wimbledon Championships is an annual tennis tournament first contested in 1877 and played on outdoor grass courts at the All England Lawn Tennis and Croquet Club (AELTC) in the Wimbledon suburb of London, United Kingdom. The Ladies' Singles was started in 1884. The open era is started in 1968, since professional tennis also included in it.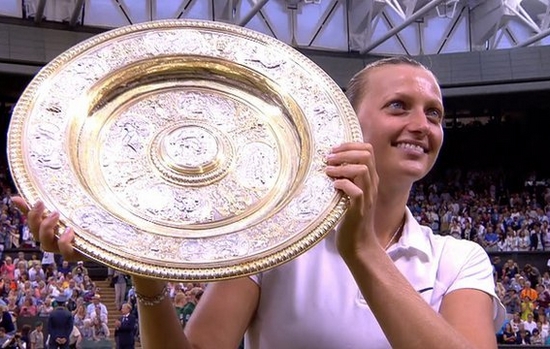 Billie Jean King of USA was the first champions of the ladies singles while Petra Kvitová of Czech Republic is the 2014 Wimbledon champions. She won the title on 5th July 2014 by defeating Canadian Eugenie Bouchard by 6-3, 6-0.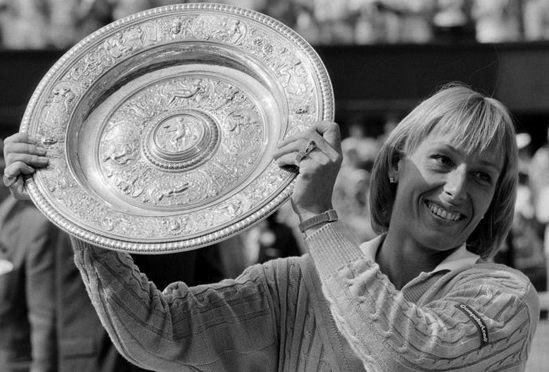 Martina Navratilova (1978–1979, 1982–1987, 1990) holds the record for most victories with nine. Navratilova holds the record for most consecutive victories with six (1982–1987). This event has been won without the loss of a set, during the Open Era of Tennis, by the following players: Martina Navratilova in 1983, 1984, 1986, and 1990, Lindsay Davenport in 1999, Serena Williams in 2002 and 2010, Venus Williams in 2008 and Marion Bartoli in 2013. Here is the full list of Wimbledon Ladies' Singles Champions of Open Era year wise.
List of Wimbledon Ladies' Singles Champions of Open Era
| | | | | | |
| --- | --- | --- | --- | --- | --- |
| Year | Champion | Country | Runner-up | Country | Score in the final |
| 2016 | Serena Williams | USA | Angelique Kerber | GER | 7–5, 6–3 |
| 2015 | Serena Williams | USA | Garbiñe Muguruza | SPN | 6-4, 6-4 |
| 2014 | Petra Kvitová |  CZE | Eugenie Bouchard |  CAN | 6–3, 6–0 |
| 2013 | Marion Bartoli |  FRA | Sabine Lisicki |  GER | 6–1, 6–4 |
| 2012 | Serena Williams |  USA | Agnieszka Radwańska |  POL | 6–1, 5–7, 6–2 |
| 2011 | Petra Kvitová |  CZE | Maria Sharapova |  RUS | 6–3, 6–4 |
| 2010 | Serena Williams |  USA |  Vera Zvonareva |  RUS | 6–3, 6–2 |
| 2009 | Serena Williams |  USA | Venus Williams |  USA | 7–6(7–3), 6–2 |
| 2008 | Venus Williams |  USA | Serena Williams |  USA | 7–5, 6–4 |
| 2007 | Venus Williams |  USA | Marion Bartoli |  FRA | 6–4, 6–1 |
| 2006 | Amélie Mauresmo |  FRA | Justine Henin |  BEL | 2–6, 6–3, 6–4 |
| 2005 | Venus Williams |  USA | Lindsay Davenport |  USA | 4–6, 7–6(7–4), 9–7 |
| 2004 | Maria Sharapova |  RUS | Serena Williams |  USA | 6–1, 6–4 |
| 2003 | Serena Williams |  USA | Venus Williams |  USA | 4–6, 6–4, 6–2 |
| 2002 | Serena Williams |  USA | Venus Williams |  USA | 7–6(7–4), 6–3 |
| 2001 | Venus Williams |  USA | Justine Henin |  BEL | 6–1, 3–6, 6–0 |
| 2000 | Venus Williams |  USA | Lindsay Davenport |  USA | 6–3, 7–6(7–3) |
| 1999 | Lindsay Davenport |  USA | Steffi Graf |  GER | 6–4, 7–5 |
| 1998 | Jana Novotná |  CZE | Nathalie Tauziat |  FRA | 6–4, 7–6(7–2) |
| 1997 | Martina Hingis |   SUI | Jana Novotná |  CZE | 2–6, 6–3, 6–3 |
| 1996 | Steffi Graf |  GER | Arantxa Sánchez Vicario |  ESP | 6–3, 7–5 |
| 1995 | Steffi Graf |  GER | Arantxa Sánchez Vicario |  ESP | 4–6, 6–1, 7–5 |
| 1994 | Conchita Martinez |  ESP | Martina Navratilova |  USA | 6–4, 3–6, 6–3 |
| 1993 | Steffi Graf |  GER | Jana Novotná |  CZE | 7–6(8–6), 1–6, 6–4 |
| 1992 | Steffi Graf |  GER | Monica Seles |  YUG | 6–2, 6–1 |
| 1991 | Steffi Graf |  GER | Gabriela Sabatini |  ARG | 6–4, 3–6, 8–6 |
| 1990 | Martina Navratilova |  USA | Zina Garrison |  USA | 6–4, 6–1 |
| 1989 | Steffi Graf |  FRG | Martina Navratilova |  USA | 6–2, 6–7(1–7), 6–1 |
| 1988 | Steffi Graf |  FRG | Martina Navratilova |  USA | 5–7, 6–2, 6–1 |
| 1987 | Martina Navratilova |  USA | Steffi Graf |  FRG | 7–5, 6–3 |
| 1986 | Martina Navratilova |  USA | Hana Mandlíková |  TCH | 7–6(7–1), 6–3 |
| 1985 | Martina Navratilova |  USA | Chris Evert-Lloyd |  USA | 4–6, 6–3, 6–2 |
| 1984 | Martina Navratilova |  USA | Chris Evert-Lloyd |  USA | 7–6(7–5), 6–2 |
| 1983 | Martina Navratilova |  USA | Andrea Jaeger |  USA | 6–0, 6–3 |
| 1982 | Martina Navratilova |  USA | Chris Evert-Lloyd |  USA | 6–1, 3–6, 6–2 |
| 1981 | Chris Evert-Lloyd |  USA | Hana Mandlíková |  TCH | 6–2, 6–2 |
| 1980 | Evonne Goolagong Cawley |  AUS | Chris Evert-Lloyd |  USA | 6–1, 7–6(7–4) |
| 1979 | Martina Navratilova |  USA | Chris Evert-Lloyd |  USA | 6–4, 6–4 |
| 1978 | Martina Navratilova |  USA | Chris Evert |  USA | 2–6, 6–4, 7–5 |
| 1977 | Virginia Wade |  GBR | Betty Stöve |  NED | 4–6, 6–3, 6–1 |
| 1976 | Chris Evert |  USA | Evonne Goolagong Cawley |  AUS | 6–3, 4–6, 8–6 |
| 1975 | Billie Jean King |  USA | Evonne Goolagong Cawley |  AUS | 6–0, 6–1 |
| 1974 | Chris Evert |  USA | Olga Morozova |  URS | 6–0, 6–4 |
| 1973 | Billie Jean King |  USA | Chris Evert |  USA | 6–0, 7–5 |
| 1972 | Billie Jean King |  USA | Evonne Goolagong |  AUS | 6–3, 6–3 |
| 1971 | Evonne Goolagong |  AUS | Margaret Court |  AUS | 6–4, 6–1 |
| 1970 | Margaret Court |  AUS | Billie Jean King |  USA | 14–12, 11–9 |
| 1969 | Ann Haydon Jones |  GBR | Billie Jean King |  USA | 3–6, 6–3, 6–2 |
| 1968 | Billie Jean King |  USA | Judy Tegart Dalton |  AUS | 9–7, 7–5 |