The goal machine Cristiano Ronaldo has great interest in luxurious expensive sport cars. At present he has a wonderful collection of expensive sports cars. But his thirst for better and more advance means of conveyance is increasing day by day. Now it is reported that Real Madrid superstar Cristiano Ronaldo has spent €19m on a brand new private jet.
Portuguese newspaper Correio da Manha reports that Ronaldo has spent €19 million (£15m) on a brand new private jet, with some very cool features.Yes the CR7 Jet. And he has the right to do this because he is the richest footballer of the present era.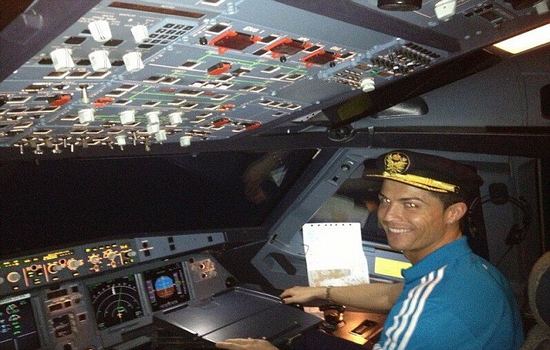 Cristiano has purchased the Gulfstream G200 twin-engine business jet, which was designed originally by Israel Aircraft Industries. The aircraft has capacity to carry between eight to ten passengers, while the jet is said to be kitted out with all the best features.
The plane is fully loaded with each and every facility of life. The plane has separate bathrooms for crew members and passengers, wardrobes, internet access, telephone, fax, microwave, electric oven, fridge for drinks and entertainment systems.
Other Features of the Gulfstream G200 are:
Capacity: Typical Seating of 8-10, 18 Max
Payload: 4,050 lb (1,840 kg)
Length: 62 ft 3 in (18.97 m)
Wingspan: 58 ft 1 in (17.70 m)
Height: 21 ft 5 in (6.53 m)
Wing Area: 369 ft² (34.3 m²)
Empty Weight: 19,200 lb (8,709 kg)
Max. Takeoff Weight: 35,450 lb (16,080 kg)
Powerplant: 2 × Pratt & Whitney Canada PW306A turbofans, 6,040 lbf (26.9 kN) each
Performance of the Gulfstream G200
Maximum Speed: Mach 0.85 (487 knots, 560 mph, 900 km/h) at altitude
Cruise Speed: Mach 0.80 (459 knots, 528 mph, 850 km/h) normal cruise at altitude
Range: 3,400 nmi (3,910 mi, 6,300 km) at Mach 0.75 with 4 passengers
Service Ceiling: 45,000 ft (13,700 m)
Source: Wikipedia