Cristiano Ronaldo Wife: Who is the Real Mother of Cristiano Ronaldo Jr.
Cristiano Ronaldo, one of the most popular and most followed persons in the world. He is not only known as a good footballer but also a well-known personality. This article is about his personal life. Cristiano Ronaldo never married but he has a child named Cristiano Ronaldo Jr. So who is the mother of Cristiano Ronaldo Jr.? This question is still unanswered.
From his Manchester United days to now he has dated many girlfriends but none of them gave birth of Cristiano Ronaldo Jr. So who was the real wife of Cristiano Ronaldo? Who gave the birth of Cristiano Ronaldo Jr.?
Cristiano Ronaldo's Girlfriends
During his career CR7 dated several girlfriends, some of them are:
Gemma Atkinson
The Hollyoaks star was a bombshell when she dated the Man United winger back in 2007 but their dates were far from glamorous.
The high-profile pair spent evenings tucked away watching British sitcom Only Fools and Horses.
Paris Hilton
In 2008 Cristiano Ronaldo was busy with Paris Hilton. The pair were filmed at Hollywood nightspot MyHouse before driving to her sister Nicky Hilton's nearby home in West Hollywood
Kim Kardashian
Cristiano Ronaldo jumped from one fame-famished reality TV star to another when he nestled up to the professional celebrity in 2010.
Irina Shayk
In 2010, Russian beauty Irina Shayk and football star Cristiano Ronaldo shocked fans around the world when they decided to call time on their five-year relationship.
This affair was ended in 2015, when both the starts decided to separate their ways calmly.
Georgina Rodriguez
Cristiano Ronaldo started dating Georgina Rodriguez in 2016. The couple has since gone public in January 2017. The pair is mostly spotted together in almost every mega event.
Although Ronaldo dated many girlfriends but none of these is the mother of Ronaldo Jr.
Who is the Mother of Ronaldo Jr.?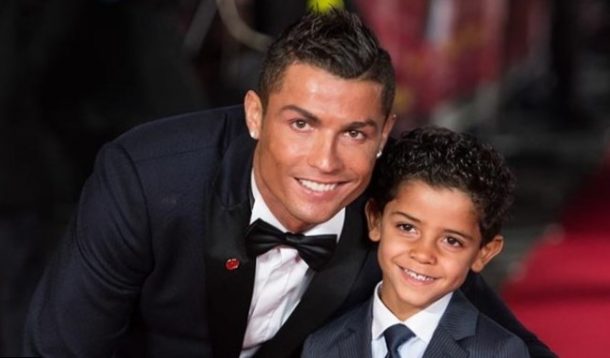 Cristiano Ronaldo was dating Paris Hilton, when one night he came to some American restaurant with his friends. The birth of Ronaldo jr is the result of one night stand with an English/American waitress.  The couple spent a night together and later Ronaldo knew that the waitress was pregnant. After a paternity test it was proved that he had become a father.
Till this date, Ronaldo Jr's mother's identity has been kept a secret.
Here's what we know.
Ronaldo paid her 10 m pounds to keep her identity secret and some sources claim he looks after her financially.
She's never allowed to have any kind of contact with Ronaldo Jr.
She was an English/American waitress whom Ronaldo had a one night stand with during his Manchester United days.
After the one night stand, she realized she was pregnant and tracked down Ronaldo via his agent Jorge Mendis. Ronaldo asked her to conduct DNA test, the results of which were positive.
She was a catholic, so abortion was not an option and credit to Ronaldo he accepted that, took responsibility of Ronaldo Jr, and announced the world via Facebook that he's a father.
Cristiano Ronaldo told, he would disclose his mother's name to his son after his 18th birthday.