When Real Madrid appointed Zinedine Zidane as their manager, there was a lot of talk about how he is going to handle one of the best soccer clubs in the world. Although having worked as an assistant under Carlo Ancelotti, the main concern of the football pundits regarding Zidane managing Real Madrid was his inexperience in coaching a pro team the level of Real Madrid. One of the richest soccer clubs at the moment is filled with the biggest soccer stars in the world. And managing them without having any past expertise would have been a lot of risk even for any of the greatest footballers. But hats off to the French legend for how he has managed the club full of so many egos.
Being honest, the biggest problem for any manager would be to make a team out of 11 different players. And in doing so there comes many hurdles especially when there are so many world class footballers in the same squad. Zinedine Zidane however handled Real Madrid brilliantly making history as Los Blancos have created history in Spanish soccer. Under the supervision of Zinedine Zidane, Real Madrid are 40 games unbeaten, the longest winning streaks in Spanish football history across all competitions.
The season 2016 has been a dream coming true for Los Blancos. Though they did not win the domestic league as arch rivals Barcelona were a single point ahead at the end of the season. Still the Cristiano Ronaldo led side managed to win not just Champions League but also European Super Cup and Club World Cup. At the moment Los Blancos are 4 points ahead of the rest of the sides in domestic league. While their Copa Del Rey journey has also been pretty much successful.
On the other hand Los Blancos' trump card Cristiano Ronaldo has already bagged a bucket of trophies including Ballon d'Or 2016 and FIFA best player of the year award. Speaking of the longest winning streaks in Spain, Real Madrid have overtook Barcelona's 39 unbeaten matches run of 2015-16 season. It's been nine months since the Zinedine Zidane men have seen a defeat in a game across all competitions.
Breaking down into the longest winning streaks in Spanish football history, the two giants have been all over the place in top five. The top five longest winning streaks involving Spanish sides are held by either Real Madrid or Barcelona.
Longest winning streaks in Spanish football history
1.Real Madrid, 40 (2016 – present)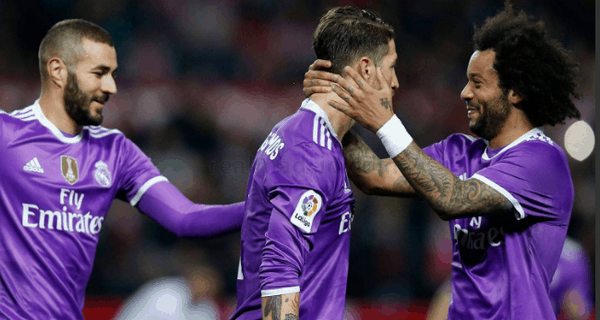 The longest winning streaks in Europe record almost remained equalized as Real Madrid nearly lost to Sevilla last week. The second leg of their Copa Del Rey fate was eventually a 3-3 draw courtesy Karim Benzema's 93rd minute heroics. Zinedine Zidane's men were eventually able to make the history beating Barcelona's unbeaten 39 matches run last season. The last time Los Blancos tasted a defeat was in the first leg of last season's UEFA Champions League quarter finals. Cristiano Ronaldo and co. lost 2-0 to Wolfsburg. Since then Real Madrid has claimed a total of 30 victories and 10 draws across all competitions.
2.Barcelona, 39 (2015–16)
Luis Enrique and his trio of MSN has been flawless since he got Luis Suarez added to the camp. The deadly trio of MSN has been the best ever attack football has witnessed in years. In their last quest to claim the league title the Catalan side scored an incredible 122 times most of them being fired by the MSN trio. Barcelona's longest winning streaks was stretched to 39 games unbeaten including 32 wins and 7 draws. From October 2015 to April 2016 the Catalan's remained invincible losing eventually to the Zinedine Zidane's men at Camp Nou.
3.Real Madrid, 34 (1988–89)
Back in 1988-89 Hugo Sánchez inspired the Leo Beenhakker's side to set a 34 games unbeaten run. Sanchez was the top goal scorer for Los Blancos that season. The third longest winning streaks in Spanish soccer history got ended when Real Madrid lost to Celta Vigo.
4.Real Madrid, 31 (2013–14)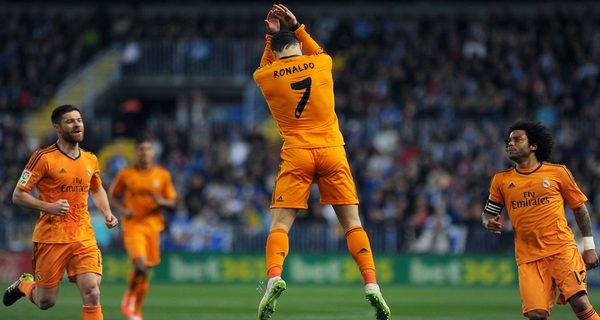 Another remarkable season for Los Blacos to remember as they claimed their 10th UEFA Champions League cup. Apart from the trophies, the Carlo Ancelotti men also recorded one of the longest winning streaks in Spanish football history. Real Madrid went unbeaten from Clasico to Clasico in that season with 31 matches, 26 wins and five draws. Their unbeaten run was spoiled by the arch rivals Barcelona.
5.Barcelona, 28 (2010–11)
Under Josep Guardiola the Catalans went 28 games unbeaten back in 2010-11. Their run included 23 wins and five draws scoring 85 times while conceding mere 15 goals. A 5-1 victory over Panathinaikos in the UEFA Champions League kicked things off for the side. While their momentum was halted by Real Betis. However none can stop them winning the league as well as European double that season.