In the past decade football have been dominated by only two players, Messi and Ronaldo. These two players have exhibited enormous skills and they have been consistent throughout the decade. The performance of Messi and Ronaldo is not anything big but the consistency in their performance is that which is remarkable.
Messi's 8 Years of Consistency.
• 2009-10: 35 la liga games with 34 goals. With a whopping percentage score of 97%
• 2010-11: 33 La liga games with 31 goals. His scoring accuracy was 94%
• 2011-12: 37 La liga games with 50 goals, his highest in a season. His scoring accuracy was unrealistically 135% which is phenomenal.
• 2012-13: 32 La liga games with 46 goals. Hia rate of scoring was outrageously 144% which too superb.
• 2013-14: 31 La liga appearances with 28 goals. His scoring accuracy was amazingly 90%
• 2014-15: He played 38 La liga games and scored 43 goals. His scoring accuracy was phenomenally 133%
• 2015-16: 33 La liga appearances with 26 goals scored. His scoring accuracy was 79%
In total, Messi have played 254 La liga games in the last 8 years, scoring 272. Scientifically, no machine functions 100% but Lionel Messi's performance in percentage terms is 107% which defiles scientific facts.
Within the 8 years, Messi have won 24 official trophies with Barcelona. Messi has over 70 individual awards to his name including the Ballon D'or.
Averagely, Messi plays 34 league games a season with a scoring rate of 90%. All things been equal, Messi is likely to score atleast 31 goals a season.
Ronaldo's 9 Years of Consistency.
• 2007-08: 34 premier league appearances with 31 goals. His scoring accuracy was a whopping 91%
• 2008-09: 33 premier league games with 18 goals. His scoring accuracy was 55%
• 2009-10: 29 La liga appearances with 26 goals. He had an impressive goal scoring accuracy of 90%
• 2010-11: Ronaldo played 34 La liga games and scored 40 goals. His scoring accuracy was classically 118%.
• 2011-12: Ronaldo played all La liga games and scored 26 goals in 38 appearances. His scoring accuracy was an unmatched 121%.   He also has a 100% scoring accuracy the UEFA champions league with 10 goals in 10 appearances.
• 2012-13: He made 34 la liga appearances and scored 34 goals. His scoring accuracy was amazingly 100%. Conservatively, he also had a 100% scoring accuracy in the UEFA champions league with 12 goals in 12 matches.
• 2013-14: He made 30 La liga appearances and scored 31 goals.  His scoring accuracy was enviably 103%. The UEFA champions league was nothing different, 17 goals in 11 games and 155% scoring accuracy.
• 2014-15: He played 35 games and scored his career high 48 goals. His scoring accuracy was an untamed 137%. In the UEFA champions league, he scored 10 goals in 12 games in a scoring accuracy of 83%
• 2015-16: Ronaldo made 36 la liga appearances and scored 35 goals. His scoring accuracy was superbly 97%. He was phenomenal in the UEFA champions league by scoring 16 goals in 12 matches.
In total, Ronaldo have played 315 league games in the last 9 years and scored 320 goals. Ronaldo's goal scoring accuracy also defeats scientific facts of no machine or human being been efficient over 100% but Ronaldo's scoring accuracy was a whopping 102%
Within the 9 years of spectacular footballing performance, Ronaldo have won 16 official trophies. With personal awards, Ronaldo have over 123 personal decorations to his name including FIFA Player of the year, Ballon D'or, FIFA Ballon D'or and FIFA Best Footballer Award.
Averagely, Ronaldo plays 34 league games a season with a scoring rate of 90%. All things been equal, Ronaldo is likely to score atleast 31 goals a season.
In the last decade, Ronaldo and Messi have combined goals of 595 goals in 569 games. A combined trophy of 40 official titles.
A hattrick was a players seasonal aim, 30 goals a season was an impossibility for a player and a milestone of every player but Messi and Ronaldo have made hattricks a day to day activity and 30 goals a season is below average for them. Football in the Messi & Ronaldo era is abnormal, long-lasting and decades record have just been broken in a short spell.
Ronaldo will be 32 years in February and Messi will be 30 years in June.  With the two players in their 30s, retirement is looming closer and closer for the two players who have made football abnormal. The big question is, who will replace Messi and Ronaldo after their retirement?
Sports Googly will preview the candidates(players) who are likely to take up the mandle and stir affairs after Messi and Ronaldo are no more.
Here are the list of players who are likely to take up the mandle from Ronaldo and Messi.
Eden Hazard

Eden Hazard 26 years is a player who is tipped to win a FIFA Best Award or Ballon D'or before he retires. Chelsea spent a whopping £32 million on Hazard who had become Chelsea's iconic talisman.
Hazard primarily plays as either an attacking midfielder or a winger and has been credited as being "possibly the outstanding talent in Europe right now".   Two of Hazard's most common exemplary traits are his pace and technical ability which have been described as "astonishing" and "mesmerizing", respectively.
At Chelsea, Hazard matured into a world class player and was primarily utilised as a left midfielder. His development into one of the world's best players was highlighted in the 2014-15 season; during this season he won multiple awards.  He is still very young and he can become the best player in the world. He's actually not that big, but he's so fast. He's also very difficult to dispossess and his finishing is top notch".
Gareth Bale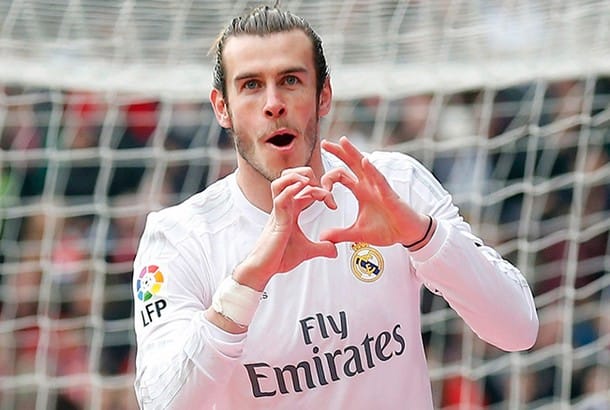 Gareth Bale who will turn 28 years is highly tipped to be the main replacement for Cristiano Ronaldo. Majority of Bale's transformation into a world class player happened at Tottenham Hotspurs. In 2013 Real Madrid sighed Gareth Bale under his superb performance in the English premier league for a transfer fee of £77 million.
One of the fastest footballers in the world, Bale started out as an offensive left back or wing back at the beginning of his career. It was at Tottenham Hotspur that his manager Harry Redknapp decided to utilise Bale's pace and played him as a left winger, where he developed into a world class player. He is known for his physical fitness, pace, skill, heading ability, stamina and agility, with a capacity to regularly get past defenders due to his acceleration. Possessing good technique and ball control, Bale is also a free Kick specialist. As he moved further forward onto the wing, he began to score goals on a regular basis with powerful strikes from outside the penalty box. A quick, strong, hard working, and dynamic player who is hard to contain in one on one situations, opposing managers have employed two players to stop him when he receives the ball.
As Bale has developed into one of the most dangerous left wingers in the world, his style of play has won admiration from managers, current and past players such as Luis Figo, Jose Mourinho, Igor Stimac, and Dani Alves. Bale has been described as a footballer with "tremendous speed, great crossing ability, a great left foot and exceptional physical qualities".
Since joining Real Madrid, Bale has usually been deployed as a winger, but mostly on the right flank, due to the presence of Cristiano Ronaldo on the left, he has also been used in a more attacking role on occasion as a striker or center forward.
Neymar Jr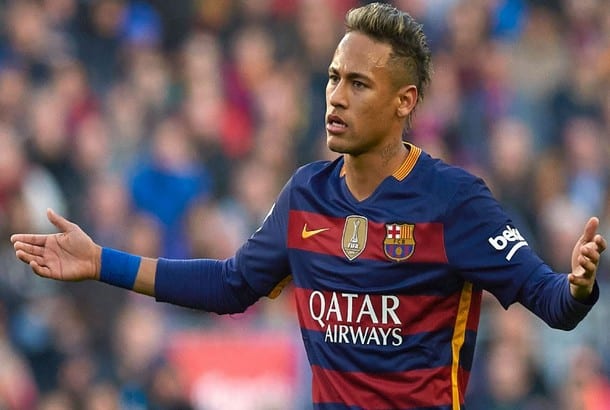 Neymar was very phenomenal at the Brazilian club Santos. Neymar was the world's one tipped player to supplement the Messi & Ronaldo debate. With similar style like Messi, Barcelona signed Neymar in an investigative saga of €86 million. Neymar who will turn 25 years in February is the people's choice to replace Messi.
Neymar primarily plays as either a central striker, second striker, winger or occasionally as an attacking midfielder, and has been described as "a true phenomenon". He often plays as a left sided forward for both club and country in the team's 4–3–3 formation, drifting infield, due to his energetic pace and playmaking skills; this position allows him to shoot with his stronger foot, or create chances for team mates. Neymar's dribbling skills, tricks and playmaking ability are reminiscent of compatriot Ronaldinho. His common traits are his creativity, passing, finishing, dribbling, feints and technique, being described as both "electric" and "explosive". Although naturally right-footed, he is capable of scoring with both feet, as well as with his head, and is an accurate free Kick and penalty taker. Messi is inspired by Lionel Messi, Cristiano Ronaldo, Andrés Iniesta, Xavi and Wayne Rooney.
Neymar have been compared to compatriots Pele and Ronaldinho.
Brazilian playmaker Ronaldinho had also tipped Neymar on becoming the best player in the world: "Neymar is young though, and I can't explain how special he will become. In the next two or three seasons he will become the best player." Another Brazilian star, retired World Cup winner Ronaldo also believes that Neymar can become the best in the world: "Logically, Messi is better right now but Neymar is a great talent who will show the world that he will be number one". Former Real Madrid sporting director Jose Valdano has also praised Neymar, stating: "I like Neymar a lot. Many of his individual actions result in a goal and often it's a move that only seems to be happening with him on the pitch." FC Barcelona star Xavi also stated that Neymar "is a great player, has a very good attitude, and will go on to be the best player in the world." However, Neymar also has been known and criticised for his diving when tackled. For which Pelé has told: "He is a player with a body that can't take a lot of hits. A lot of times he will fall because he can't do anything else, but he was overdoing it." He continued: "Even when he is fouled, he can't make a spectacle out of it
Gabriel Jesus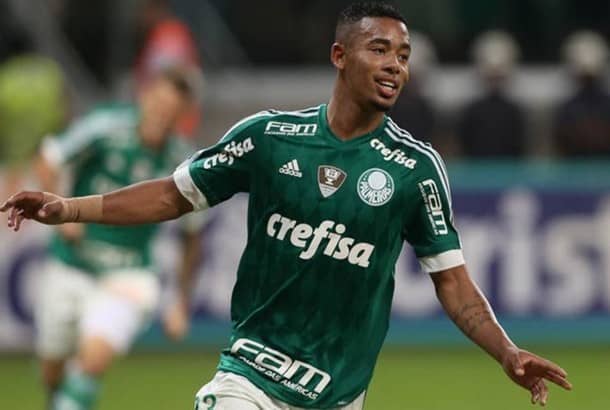 Gabriel Jesus who will turn 20 years in April is one of the best players in the world. In January 2017, Manchester City signed Gabriel Jesus from Palmeiras is Brazil for €27 million with add-ons.
Jesus plays as a forward or winger or attacking midfielder and is renowned for his pace, finishing, and work ethic. The former Brazil forward Ronaldo hailed him and touted him for future success with the national team. If Gabriel Jesus is able to replicate his form in Europe especially England, he is likely to carry the touch from footballs insane players(Messi & Ronaldo)
Mario Gotze

Once called the Germany Messi, Gotze was once a time the most expensive German player of all time. At age 24, Gotze have played for the two biggest clubs in Germany, Bayern Munich and Dortmund. The young German sensation have already won the world cup and scored the world cup winning goal a dream Ronaldo and Messi are chasing. He have also won one FIFA Club World Cup and one UEFA super cup.
Gotze is capable of playing as either a left or right winger, attacking midfielder and also as a false 9. Gotze is considered to be one of the best young players in the world, possessing speed, technique, dribbling skills and playmaking capabilities. For Germany, Gotze's talent is sometimes used by German coach Joachim Low in the "false 9" role.
German football legend Franz Beckenbauer described Gotze as "German Messi" for his speed and style of play. In 2010, German Football Association's then-Technical Director Matthias Sammer described Gotze as "one of the best talents Germany has ever had." Gotze is a priceless asset for German football and many believe that he is the Messi.
Furthermore, these are not the only players tipped to carry the touch of world football from Messi & Ronaldo. There are 100s of players who have been hyped but these are the renowned players who are highly realistic of achieving success.