Glamour is an integral part of modern sports. Many of the athletes are known not only for their skills in sports but also for their style, good looks and glamour. Okay, I guess enough with this boring intro, let's just cut it short and feast our eyes with some of the most glamorous female athletes of present era.
11. Anna Rawson
The Australian golf doll is one of the most glamorous female athletes of the present era. She is not only a professional golfer but also a successful modal. After spending some time in collegiate golf and amateur golf; she turned professional at the end of 2004. She got her break into a modeling career at the age of 16. Although she didn't receive any remarkable success in golf but owing to her glamorous look and beautiful figure, she is a successful modal. She is one of the most beautiful women in golf.
10. Maria Sharapova
Whenever you rank the glamorous sports, tennis will always score highest points. In tennis there are many beautiful faces but no one can deny the personality of Russian tennis queen Maria Sharapova. She earned ultimate fame both in court and off-court. No doubt she is one of the hottest tennis players in the history of tennis. In tennis courts she won many titles including a grand slam and a silver medal in Olympics. She was also ranked world no 1 in WTA rankings.
Besides tennis she has a high demand in endorsement industry. She is the highest paid female athlete in the world. She is also very popular in social media and is the most popular female athlete at social media.
9. Ellen Hoog
Dutch hockey superstar Ellen Hoog was unveiled as the women's International Player of the Year for 2014. Versatile midfielder, Ellen made her international debut at the age of 17, and has two Olympic gold medals, two World Cups wins and a Hockey World League title to her name, as well as numerous other championships and awards. She was also player of the tournament at the 2014 Hockey World Cup. She is the most beautiful women hockey player in the world.
8. Alex Morgan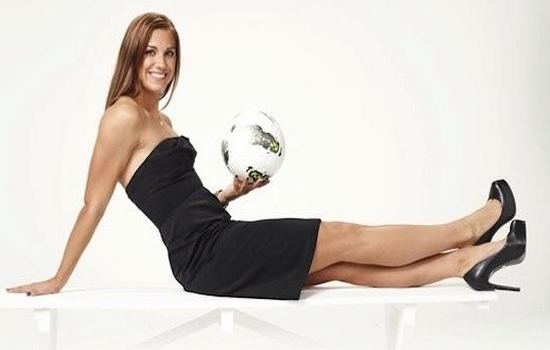 The hottest female soccer player in the World Alex Morgan is the perfect example of beauty, skills and success. Alex Morgan was also the part of USA team which conquered the FIFA women's world cup 2015. Ranked at no. 01 as the most glamorous female athletes of present era in soccer world Alex Morgan rightly obliged his nation's hopes at World cup 2015.
7. Maria Kirilenko
The second Maria from Russia (first one Maria Sharapova) identical in profession and style as well. Following Sharapova she also has got quite a reputation in modeling. However this ravishing Russian has not gain so much inside the court. So far her major achievements consist of reaching the three Grand Slam singles quarterfinals. Though her highest career rankings are being a no.10 still she has got quite higher spot in most glamorous female athletes of present era list.
6. Danica Patrick
Auto racing driver, model and advertising spokeswoman, the next American in our list of most glamorous female athletes also covers multiple arenas. The most successful woman in the history of American open wheel racing has got many honors on her name including first female to win a NASCAR sprint cup series pole.
5. Ana Ivanovic
The Serbian beauty queen apart from tennis world is equally popular in fashion and glamor world.  She won the tennisreporters.net Sexiest Female Player award for five straight years (2005-2009). In 2010 it was renamed the "Ana Ivanovic Sexiest Female Player" award and she was struck off the ballot list. She also finished 11th on FHM's 100 Sexiest Women in the World 2009 list
4. Lindsey Vonn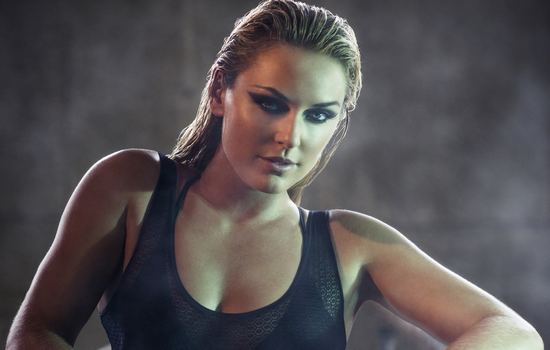 Next in our list of most glamorous female athletes of present era is American Alpine Ski racer Lindsey Vonn. With blue eyes, perfect body-figure and beautiful hairs she is one of the most beautiful women in sports. She also dated Tiger Woods from March 2013 to May 2015.
3. Darya Klishina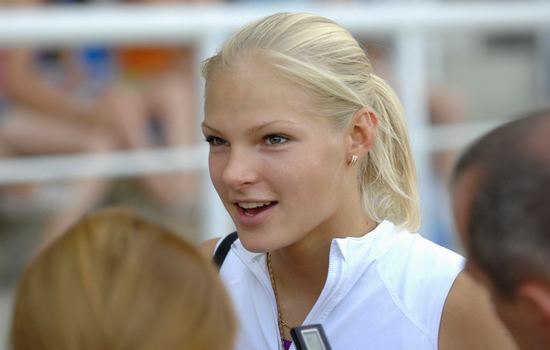 Darya Klishina, the long jumper from Russia, has come a long way since she started her career in athletics at the age of thirteen, in 2004. The 20 year old has worked her way in this field with her unique combination of strength and elegance. One of the physical factors that contributed a great deal to her success on the track as well as in glamour world is her long limbs. Keeping busy with modeling assignments and advertisements is her second preference after long jumping.
2. Allison Stokke
Next in our list of most glamorous female athletes of present era is 25 year old pole-vaulter Allison Stokke from California. She made the U.S. youth team in the 2005 World Youth Championships, but did not compete due to a broken leg. With her hot body she is one of the most beautiful and glamorous women in sports.
1. Genie Bouchard
Eugenie Bouchard is certainly one of the most gorgeous and beautiful lady in sport's world. The Canadian tennis queen won the 2012 Wimbledon Girls' title. She also reached the semifinals of the two other Grand Slams. Bouchard appeared at the tennis horizon and ranked higher and higher. Not only has Genie Bouchard garnered quick success on the court, but off the court as well she is a very popular name, what with that pretty face, beautiful smile, and an inexplicably pleasant aura about her. She is one of the hottest tennis players and one of the most glamorous female athletes of present era.