There is a saying that being glamorous means a lot but being famous means everything. True indeed, because glamour always follows the fame. Who knows in which context the Author said these lines but the quote seems perfect when we place it upon modern-day Cricketers. Money has never been a problem for them neither fame and whenever money and fame get together expect the glamour to be there as well. From their grounds to their personal lives glamour keeps surrounding them all the time and why shouldn't be, they absolutely deserve that lame light and fame. When we talk about glamour how could it be possible not to mention the friendships and scandals of the Cricket stars? Here is a list of Top 10 Hottest cricket WAGs of present era. Enjoy
10. Lee Watson
 The count-down begins with Australian right handed all-rounder Shane Watson's beautiful wife named Lee Watson. The couple got married on 3rd June 2010. Presenter for Fox Sports Australia has got some serious cuteness and looks a perfect match for handsome Shane.
09. Sania Mirza
The top Indian Tennis star Sania Mirza just doubled her fame by getting married to Pakistani Star Cricketer Shoaib Malik. The 27 years old Hyderabadian beauty stunned the whole world not only with her innocent looks but also with her game. Although at present both love-birds may have gone in a little shade but fans' love for the cute couple is never going to fade.
08. Jessica Bratich-Johnson
Jessica Bratich is a model and karate black belt holder wife of Australian fast bowler Mitchell Johnson. The couple just got their first baby as well. It is hard to believe that a woman as hot as Bratich could be a mother. Mitchell made a smart move by marrying this amazingly sexy woman.
07. Shamone Jardim
In the list is another South African All –rounder Jacque Kallis with his beautiful girlfriend. The two had parted ways sometime ago but the lovers reunited recently. A model and actress by profession, Shamone has been pictured at various social events around the world and has also been an ardent follower of the South African cricket.
06. Sue Erasmus
Another gorgeous woman in the South African domain is JP Duminy's wife Sue Erasmus. She has been tagged as the Queen WAG by the media for her willingness to pose for the shutterbugs and openly talk about her relationship with her man.
05. Jessica Taylor
Jessica Taylor is an English singer, glamour model, television personality, dancer, best known for being a member of the Brit Award-winning pop group, Liberty X. On 29 December 2007, she married England cricketer, Kevin Petersen, at a service in Castle Combe, Wiltshire.
04. Sakshi Singh Dhoni
Wife of Indian Captain M.S. Dhoni and unquestionably stylish, Sakshi Dhoni has held her own alongside venerable cricket wives. She definitely makes the stands look good and has a unique sex appeal of her own, unlike any other celeb WAG in the world of cricket. Everybody loves her for her cool fashion sense and glam appearances
03. Jeanne Kietzmann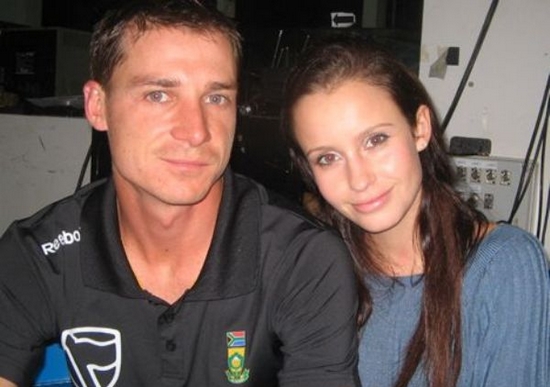 The South African pacer Dale Stayen and Jeanne Kietzmann has been together for almost seven years.  Jeanne is a fashion design graduate and is a professional model. Gorgeous Jeanne Kietzmann also claims to be the luck charm for Protean Speed star.
02. Mayanti Langer
Mayanti Langer is an Indian TV sports journalist associated with ESPN. Known as the hottest Indian TV anchor Mayanti Langer is the wife of Indian Cricketer Stuart Binny. Her love for Football has surely gifted her with most healthy and attractive physique of a TV Anchor ever.
01. Anushka Sharma
Bollywood queen Anushka Sharma and star cricketer Virat Kohli have been in spotlight for quite a time now. Although according to them they are "just friends" but their concern and care for each other reveals that they are much more than just friends. There are some rumors regarding their engagement as well. According to Indian fans Anushka is the key factor for the miserable performance of Virat Kohli in ICC Cricket World Cup 2015. Whatever the reason behind the poor performance of Kohi, No doubt Anushka is the hottest cricket WAG of present era. And she is at top position in our list of Top 10 Hottest Cricket WAGs of Present Era.