Mallory Pugh the New Face of Women's Soccer  
Mallory Pugh is US soccer player and currently representing the country in Rio Olympics. On club level Pugh represents the Real Colorado football club. Pugh is the second-youngest Olympian in the history of U.S. women's soccer. No one had any idea that the selection of this 18 years old youngster would be so influential in United States gold medal hunt in Olympics games.
At the start of 2016, Pugh hadn't even trained with the senior squad. Much less played in a game for the team that has won three straight gold medals, is the defending Women's World Cup champion, and holds the world's top ranking. Pugh, when 2016 began, was seventeen years old.
But when time came and she got chance to play with senior team, she did what she does the best. She made an instantaneous and obvious impact. On January 23rd, Pugh made her senior-team debut, and scored twenty-five minutes into the contest. She was the youngest American to earn an appearance in eleven years, and the sixth-youngest goal scorer in U.S. history.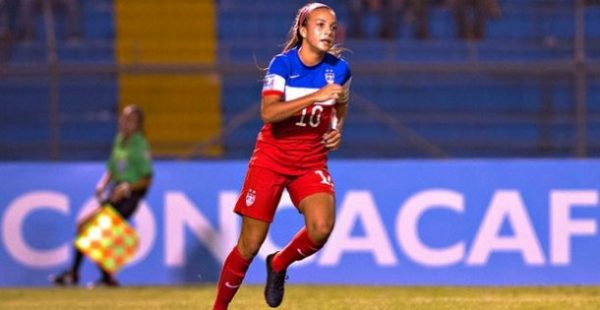 Mallory Pugh represented the United States at FIFA U-20 Women's World Cup tournament. Not only was that, she the youngest team member at the 2014 FIFA U-20 Women's World Cup in Canada. Less than two years ago, Mallory was a 16-year-old competing in the under-20 Women's World Cup in Canada. Last December she was a 17-year-old captain and leading scorer of the U-20 team that won the CONCACAF World Championship in Honduras and earned its way to the 2016 World Cup in Papua New Guinea in November.
And this past January she made her biggest leap yet, becoming the youngest player in 11 years to debut with the senior national team when the U.S. defeated Ireland 5-0 in front of more than 23,000 fans at San Diego's Qualcomm Stadium. At 17, she was the youngest player to debut for the national team since Heather O'Reilly's debut in 2002. In 2015, Pugh received the U.S. Soccer Young Female Player of the Year as well as Gatorade National Girls Soccer Player of the Year awards.
Mallory's recommence and list of praises has expanded faster than her legs can move, putting her among experts more than a decade older than her. She has been described as the future of women's soccer, as a special talent that comes around maybe once every 10 years. Despite being nearly half a decade younger than any of her teammates, Pugh unquestionably belongs on the field with all of them. She mostly plays on the left wing, where she mixes blazing speed with improving skill when dribbling.
Who Said What??                                                                                                     
Mallory Pugh is labeled as 'the new face of women soccer' in almost no time by critics and former players.
 "She's talented, but because of her mental (maturity)," "That's what gets her what she wants. If you see her on the field, it's as if she's supposed to be there." says Sterling Joseph, Pugh's longtime trainer.
"It's not so much of a surprise that she's with the national team. I think we expect her to do something great, because she's very talented. She was born with some stuff that we coaches can't teach, and we just refined her tools. That's all we did."
Lorne Donaldson, executive director of coaching/president of Real Colorado.
"I just knew she was special. In every capacity — on the field, in fitness testing, anything she was doing. Just in the way she carried herself, you could tell that she was a player that had a bright future."
Jill Ellis, U.S. women's national soccer team coach.
The U.S. women's soccer legend Mia Hamm tweeted after a recent match parsing Mallory "Speed kills but technical speed absolutely annihilates defenders. Mallory Pugh is for real".
"Her ability to take players on and get end line and play quality crosses in the box has been world class. Since then, she's added different layers to her game." According to the U.S. co-captain Becky Sauerbrunn.
"I've never seen her get, in any way, frazzled. That's just the person she is. She loves playing and she loves the game."
Lindsey Horan, Golden native and U.S. Olympic midfielder.
Well that's what critics think but ,what was her parents thinking when she scored her first goal for national team??? "We looked at each other like, 'Did she just do what we thought she did?' At 17 years old, you're with the national team and I thought she's got to screw up, because her nerves have just got to be — she's just got to be rattled," Horace says. "I'm thinking she's going to whiff a ball or kick it out of bounds. To be 17 and finally be at that level that you've always wanted to be at, and not to just to be sitting on the bench but to finally be in — I can't imagine."
"She doesn't get frazzled much," Horan says. "It really amazes me, because when I first got called up when I was 18, I was stars truck the whole time and nervous before every game. Mallory stepped in and in her first game she gets a goal. That's amazing in itself, but I see it day in and day out. She doesn't play like an 18-year-old. She doesn't let anything get in her head, which is really cool."
Mallory Pugh File:
Age: 18
Hometown: Highlands Ranch
High school: Mountain Vista
Club: Real Colorado
College: UCLA (January 2017 start)
2014-15 Gatorade national girls soccer player of the year.
2015 U.S. Soccer young female player of the year.
Captain of 2015 U-20 national team that won the CONCACAF championship. Winner of Golden Ball (best player) and Golden Boot (most goals, seven) awards in the tournament. Will lead team to FIFA U-20 Women's World Cup in Papua, New Guinea, in November.
Earned first cap and goal with senior national team in 5-0 victory vs. Ireland, Jan. 23 in San Diego.
Youngest player (17 years, 9 months, 12 days) in women's national team history to play in an Olympic qualifying match, against Costa Rica on Feb. 10.
Second-youngest U.S. women's soccer Olympian in history.
Youngest American who scored goal in Olympics.