Who is the NBA tallest player ever? And who is the current tallest NBA player? What is height of NBA Tallest player?  Who is taller NBA player; Manute Bol, Gheorghe Mureșan or someone else? In below line we'll to try to find the answers of these questions. There is a close relation between basketball and height.  And over 6 feet height is common in basketball. But basketball court has seen so many giant players who have measured over 7 feet height.
The current (2016) world's tallest man Sultan Kösen (251cm centimeters / 8 ft 3 in) once played basketball, but not at a professional level. One of the tallest players in the history basketball is Suleiman Ali Nashnush at 8'0½" (245 cm) though when he played basketball he was closer to 7'10" (239 cm) and played for Libya.  Sun Ming Ming, from Bayan in China was another tallest Basketball player. He stands 236 cm (7 ft 9 in) tall. But none of these ever appeared in NBA.
Who is the NBA Tallest Player Ever?
 Gheorghe Mureșan (7 ft 7 in) and Manute Bol (7 ft, 6 ¾ in) are the tallest basketball players ever appeared in NBA. Both are measured at 7 feet and 7 inches, but there is a slight difference in the height of both athletes.
Gheorghe Mureșan (7 ft 7 in)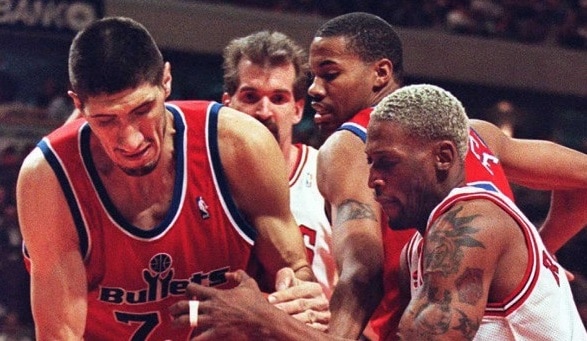 The former Romanian basketball player Gheorghe Mureșan is considered the tallest NBA player ever with 7 ft 7 in (231 cm) height. Gheorghe played in the NBA from 1993 to 2000. He was selected by the Washington Bullets in the 1993 NBA Draft. His best season came in the 1994–1995 campaign, when he averaged 14.5 points per game.  He joined the New Jersey Nets for the final 31 games of his career. After ending his NBA career, Mureșan had another spell in the French league before returning to the United States with his family.
Manute Bol (7 ft, 6 ¾ in)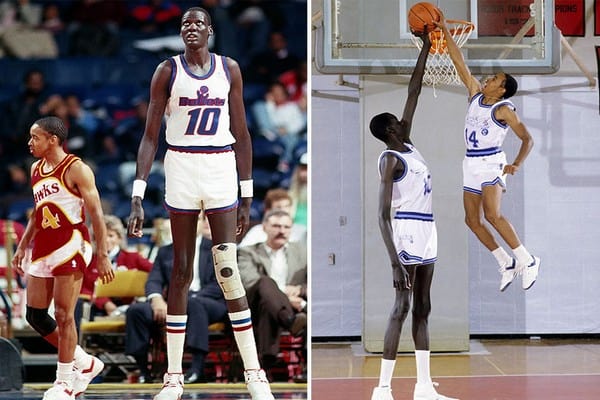 The Sudanese-born basketball player and political activist Manute Bol is another tallest basketball player appeared in NBA. At 7 ft 7 in (2.31 m) tall, he was one of the tallest basketball players ever to play in the National Basketball Association, along with Gheorghe Mureşan. He was officially measured and listed at 7 feet, 6 ¾ inches tall in the Guinness Book of World Records. Bol played basketball for many teams over his career. He played for two colleges and four NBA teams. A center, he was known as a specialist player; he was considered among the best shot-blockers in the history of the sport, but other aspects of his game were considered fairly weak. Over the course of his career he blocked more shots than he scored points. He played in the NBA for ten years, from 1985–1995, spending parts of four seasons with the Bullets, parts of three with the Golden State Warriors, parts of four with the Philadelphia 76ers and part of one season with the Miami Heat.
Who is the Tallest NBA Player right now?
Sim Bhullar 7 ft. 5 in (2.26m)
Sim Bhullar is the first Indian descent basketball player to make it into NBA though he is only the part of NBA Development League representing Raptors 905. Born in Toronto, Ontario the 23 year old plays as a center and is one of the tallest NBA players currently in action. The Canadian national possess a huge size that helps him score points easily though he has not been exceptional so far. Bhullar has also represented Canada at International level in the 2011 FIBA U-19 world championship.
Who is the Tallest Basketball Player right now?
Robert Bobroczky (7 ft 7 in (2.31 m)
The tallest basketball player right now is Robert Bobroczky with 7 ft 7 in (2.31 m) height. He is currently playing college basketball representing the SPIRE Institute, a state-of-the-art international academy in Geneva, Ohio, is set to become the tallest player to ever play in the NBA and of the tallest in the history of the sport.
Bobroczky, a native of Romania, has been described as "so tall he doesn't look real". At age 12, he was already 7 feet tall and  he is still on track to become the eighteenth person in medical history to reach or surpass eight feet in height. Unfortunately, his weight has been having trouble keeping up with his growth, and at 7-foot-7, he weighs only 190 pounds.