Years ago cricket was named as the gentleman's game, may be was rightly said because at that times glamour and game of cricket was totally two opposite things. Time changed, playing techniques changed and also changed the trend. Now a day cricket is no more just a gentleman's game but it has become a business and the most beneficial one. With the changing tactics players also started off the field activities which they considered best for business such as signing for TV commercials, brand ambassadorial etc. So, the game as well as the players got more trendy and stylish. Here is a list of the top 10 most stylish cricket players currently in action in the field and definitely off the field.
10. Yuvraj Singh
Yuvraj Singh is an Indian cricketer and the son of former Indian fast bowler and Punjabi movie star Yograj Singh. Yuvraj is a left-hand middle-order batsman and a slow left-arm orthodox bowler. Yuvraj has got quite a reputation both inside the ground as well as outside for his attitudinal looks and expressions. Yuvraj has also been involved in sports based e-commerce; he is a brand ambassador of sports 365.in, an online store focused on selling sports goods and fitness equipment. Yuvraj is also the brand ambassador for the famous sports brand Puma. Yuvraj is at no 10 in the list of top 10 most stylish cricketers of in the world.
9. Micheal Clark
Nicknamed "Pup" is a right-handed middle-order batsman, and an occasional left-arm orthodox spin bowler for Australian cricket team. 1.78 m tall player is one of the most stylish players in cricket history and often gets the chances on silver screens representing famous brands.
8. Chris Gayle
Apparently looking dangerous at crease; the Jamaican boy Chris Gayle is one of the most stylish cricketers in the world. Especially his celebration style is very famous among cricket fans. His gangnam style dance makes his most stylish athlete in cricket world.
7. Alastair Cook
Alastair Nathan Cook is the captain of the English Test and ODI cricket teams. He is a left-handed opening batsman who plays county cricket for Essex. Left handed Alastair cook provided great strength to the English team at the top order. Apart from cricket field he also stylish figure and fashion icon.  He has got a cute facial structure which attracts the advertisers to cast him.
6. Brandon McCollum
The current Kiwi captain for all three formats enjoys a definite place whenever one talks about stylish cricketers. Having such an athletic physique and stylish tattoos on his arm, McCollum has always been a top figure for brand embassy and fashion shoots.
5. Dale Steyn
Dale Steyn could be just the latest nuclear-tipped arrow that South Africa has drawn from their seemingly bottomless quiver of classy fast bowlers. Both his bowling and personality are phenomenal. Like his pinpoint pure pace the 30 years pacer has always been at front row when we talk about glamour or styles.
4. Shahid Khan Afridi
Shahid Khan Afridi also known as Boom Boom Afridi no doubt is the most ever loved and famous cricketer in history. For his in field performances he needs no introduction. Afridi is also an icon in the modeling and commercial areas and earns more than Rs.100 million from modeling assignments. Lala is at No 4 in top 10 most stylish cricketers in world.
3. Virat Kohli
Virat Kohli of Indian cricket team is perhaps the most exciting talent in today's cricket. Despite of controversies and allegations of not respecting the seniors, "the angry young man" has won million's hearts by his performance. His well groomed face and cool hairstyles makes him an apple of many cellular and suiting brands' eyes.
2. Kevin Pietersen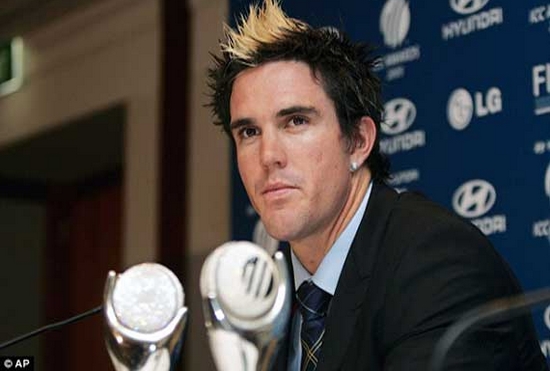 At no 2 we have Kevin Peieterson in the list of top 10 most stylish cricketers. Kevin Peter Pietersen is a South African-born English cricketer. He is a right-handed batsman and occasional off spin bowler who plays for England, Surrey and the Delhi Daredevils. His aggressive batting style plus great sense of fashion has made him fashion "guru" in recent years. And surely, the charm in his personality always keeps him at a prominent position among the fashion icons.
1. Shane Watson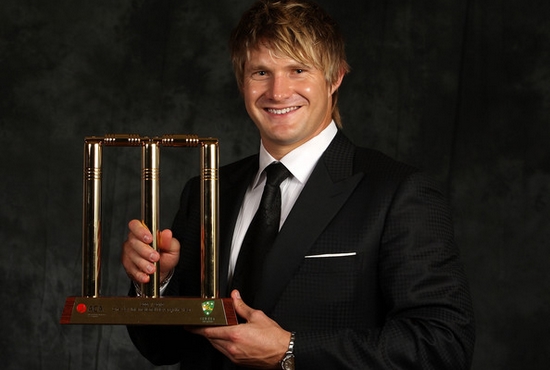 Shane Robert Watson is an Australian cricketer. He is a right-handed batsman and a right-handed fast medium bowler. He debuted for the Australian cricket team in 2002.With his achievements in the ground; he has earned a huge fame in fashion and advertisement industry. His silky long blonde hair, shining blue eyes and perfectly toned body makes him the most stylish player above all.