T-20 cricket looks dull without fours and sixes. There are many stylish and great cricketers who earned immense fame owing to their technique, concentration and style. On the other side, in most modern format of cricket there are some Batsmen who can tear any bowling attack with their massive Hard Hitting; we can Call Them Most "Dangerous Hard Hitters". These Hard Hitters batsmen are a bowler's nightmare; they can be match winners on their day. "Dangerous Hard Hitters" made T-20 cricket popular. There is Some Explosive Hitters in Today's Modern Cricket who are Famous in World of Cricket for their Explosive Batting, Big Hits and Long Sixes. Here is the List of top 10 Most Dangerous Hard Hitters in T-20 Cricket. These are not batsmen but are most dangerous hard hitter batsmen. Check out the list and don't shy to comment on it.
#1. Glenn Maxwell
Australian all-rounder Glenn Maxwell is one of the most dangerous hard hitter cricketers in T-20 format. Maxwell doesn't take any time to set on crease. He can hit the first ball he is going to face. He can tear any bowling attack with his explosive batting. When he is on, the opponent bowler definitely off. He knows the only one gear that is 4th one. He doesn't give any respect to any bowler either spinner of pacer. His ability to hit any type of delivery, either good length, full length or short ball, over the ropes makes him most explosive and most dangerous hard hitter in cricket particularly in T-20 cricket. Maxwell with 150+ strike rate in T-20 is playing for Kings XI Punjab in IPL season seven.
#2. Chris Gayle
Chris Gayle is undisputed the World's Most explosive left hand batsman ever. This muscular player from Jamaica plays for West Indies Cricket team in all three formats of game. In the beginning, he takes his time for sitting, once is set… than no one can stop him. He is a powerful player and even his bat edges can go over the fence for six. His record 7 centuries in T20 cricket is a crystal clear evidence of his explosive and brutal batting. He has the record of highest score of T-20 in an innings. He scored 175 at just 66 balls in IPL 2013. Chris Gayle plays for Royal Challengers Bangalore in IPL.
#3. AB de Villiers
Mr. 360o AB de Villiers is another dangerous hard-hitter in limited overs cricket, especially T-20 format. No one can deny his abilities in 50-ovres cricket. The master of improvisation also holds the record of fastest ton in ODI cricket. He is dangerous too in T-20 cricket. His T-20 strike rate is over 125 is a clear sign of his explosive batting in this version of cricket.
#4. Brendon McCullum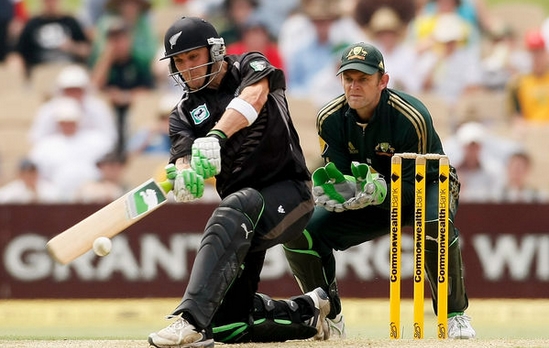 He is among most dangerous hard hitters in cricket especially limited-overs cricket. New Zealand's captain Brendon McCullum can bruise bowling attacks like few other men in international cricket. He muscles balls over both sides of the field and was responsible for getting the IPL off to an electrifying start, lighting up the tournament's first match with 158 and showing what the format had to offer. He is the only player, who scored two centuries in international T-20 cricket.
#5. Yuvraj Singh
How brutal and dangerous Yuvi is? England skipper Strut Broad better knows when Yuvraj smashed him six sixes in an over that is a world record. Yuvraj is more effortless and brutal at the same time in limited-overs cricket. If he gets going then it's almost next to impossible to stop him. Even the best of the bowlers find it difficult to bowl at him when he starts middling the ball. With a strike rate of 145 he is one of the most explosive hard hitter in T-20 cricket. He plays for RCB in IPL.
#6. Darren Sammy
This big guy is one of the most dangerous hard hitter in T-20 cricket. Particularly in finishing overs he often finishes the game in his own style. Once he is on fire world's best bowler forget their line and length. Batting deep in the crease, and happy to hit sixes to any part of the ground, often flat missiles Sammy is most explosive hitter for West Indies after Gayle.
#7. David Miller
David Miller is a massive hitter of the cricket ball. His natural habitat has been limited-overs cricket, regularly scoring at over a run-a-ball even in List A matches and hitting it longer and harder in domestic Twenty20s. This ability was on display when he played some breathtaking knocks in the Indian T20 League. Playing for Kings XI Punjab on 6th May 2013, Miller hit the 3rd fastest IPL century (101 not out off 38 balls) against Royal Challengers Bangalore. One of the best innings in the history of IPL, according to Virat Kohli captain of RCB.
Miller's recent ton against Bangladesh is an clear evidence of his aggressive bating. He scored fastest T-20 international century. Miller scored 101 runs of just 35 balls.
#8. Shahid Khan Afridi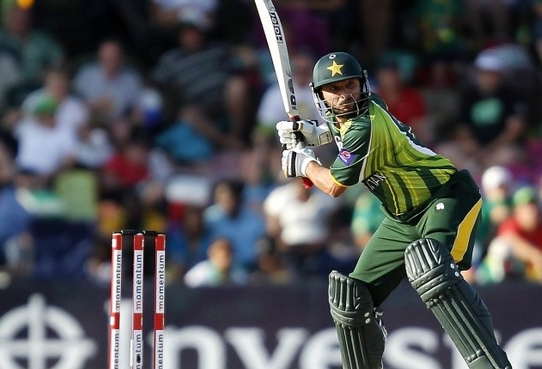 Pakistani all-rounder Boom Boom Afridi is one of most feared cricket batsman in world cricket. He is known for his very aggressive and dangerous batting style as the only way he knows to play cricket by hitting every bowl he faces. He is a compulsive basher, literally unable to control his urges to slog every ball that comes his way, and not much of it is classical. He has the record of most sixes in One Day Internationals. He is dangerous and explosive in T-20 cricket too. His strike rate of over 150 indicates his brutality and aggressiveness in this format of cricket.
#9. Mahendra Singh Dhoni
Indian skipper and one of the most successful captains in all format of cricket Mahendra Singh Dhoni is known as an attacking and aggressive batsman. Contrary to his captaincy, Mr. Cool is not cool in batting. He is one of the most dangerous hard hitter in cricket particularly in T-20 cricket. His ability to play many orthodox strokes makes him a dangerous batsman. Halicaptor shot is his specialty in which he can hit a full length delivery even Yorker over the long on area in the crowed. His T-20 average of 35.70 and strike rate of 135 indicates his brutality. He is also leading Chennai Super Kings in IPL; CSK won IPL title twice under his captaincy.
#10. Aaron Finch
Australian opener Aaron Finch's clean hitting ability makes him one of the most dangerous batsmen in T-20 format. His power game made him a strike weapon at the top of the innings, with bowlers struggling to find a flaw in his game. This is Finch's talent: he hits the same shots as everyone else, just much, much harder. Finch currently holds the record for the highest innings in a Twenty20 International match, 156, scored against England on 29 August 2013.