Professional Soccer players are among the richest persons in the world. No doubt in the fact when we look at players earning over 50 million dollars a season. However, when it comes to the other gender of the same profession the facts are a bit different. The total earnings of Female soccer players are much lesser than that of male players. In male division Cristiano Ronaldo tops the list with over $79 million earnings whereas the highest paid female player's wages reach mere half a million. Top 10 highest-paid female footballers of the year 2018 are enumerated below.
01. Alex Morgan: Salary $650,000
Alex Morgan is one of the most beautiful ladies in soccer. She is also most popular women footballer in the world. She is the highest-paid female footballer in 2015. In 2012 her salary was about 70,000 USD but now her salary is boosted up to 650,000 USD. The two-time Olympic gold medalist Alex is at top spot in highest earning female footballers.
2. Marta Vieira: Salary $600,000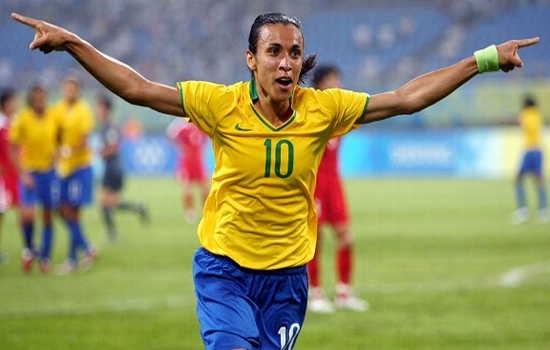 The pure Brazilian talent Marta has been ranked best female soccer player in the world by FIFA for five consecutive years. She is one of the current best footballers in the world. That's why she is among highest-paid female footballers in the world. She is also all-time top goal scorer in FIFA Women's World cup. She commands a salary somewhere in the region of $600,000 – the highest salary ever paid to a female soccer star after Alex Morgan.
03. Amandine Henry: Salary $500,000
The French Midfielder Amandine Henry receives $500,000 annual salary, she also receive $50,000 as match fee. Besides representing French National team Amandine Henry also representing American club Portland Thorns in the NWSL.
04. Samantha Kerr: Salary $450,000
Australian Soccer forward Samantha Kerr is at 4th place in highest paid female footballers' list. Her annual salary is about 450,000 USD. She also receives $40,000 as match fee.
05. Jodie Taylor: Salary $420,000
The English striker Jodie Taylor's annual salary is about 420,000 USD and she is at no 5 in this list. Jodie Taylor  represented Englandat youth level before making her senior international debut in 2014. She scored the opening goal in the 2–1 quarter-final win over hosts Canada at the 2015 FIFA Women's World Cup. England went on to win the bronze medal at the tournament. Taylor won the Golden Shoe award as top goalscorer at Euro 2017, scoring five goals in four appearances.
06. Carli Lloyd: Salary $400,000
The two times Olympic gold medalist and  FIFA Women's World Cup champion, 2015 FIFA Player of the Year and 2016 FIFA Player of the Year Carli Lloyd's annual salary is about $400,000. She also receives $40,000 as match fee.
07- Sydney Leroux: Salary $400,000
The American National soccer player and Olympic gold medalist has earned over 50 caps with senior National team and was also the part of American winning squad at 2012 Olympics. She has a salary of over $92000 becoming the 7th among the highest-paid female footballers in 2018.
08. Christine Sinclair: $380,000
Christine Margaret Sinclair one of the best female soccer players of present era is a Canadian soccer forward who is currently unsigned and is the captain of the Canadian national team.She is the reigning, seven-time Canada Soccer Player of the Year. She was also honoured by FIFA as a nominee for World Player of the Year five times. Her annual salary is $380,000 and $30,000 match fee.
09. Amy Rodriguez: Salary $380,000
Amy Rodriguez another American Female footballer is in our list with 380,000 USD annual salary and $35,000 as match fee.She has played most of her games in the forward position and is known for her speed. She is called "A Rod" by her teammates and soccer commentators.
10. Eugénie Le Sommer: Salary $380.000
Eugénie Le Sommer is a French football player who plays for French club Olympique Lyon of the Division 1 Féminine. Le Sommer plays as a creative attacking midfielder, but often plays as a second striker for the France women's national football team. Her annual salary is $300,000 and match fee is about $ 30,000.
let us know about the list Highest Paid Female Footballers below in comments box.