Most sixes in an innings of ODIs is about those dangerous and explosive hard-hitter batsmen, who smashed highest sixes in ODI cricket. In the history of one day international cricket, three batsmen jointly hold the record of most sixes in an innings. These are Indian opener Rohit Sharma, Protease wicket-keeper batsman AB de Villiers and West Indian dangerous hard-hitter Chris Gayle. All three batsmen have slapped 16 sixes in an innings of ODI cricket.

Rohit Sharma smashed 16 sixes in an innings of ODIs against Australia. The match was played on 2nd November 2013 at Bangalore. He scored 209 runs at 158 balls with a strike rate of 132.27. This was his first double century in ODI cricket.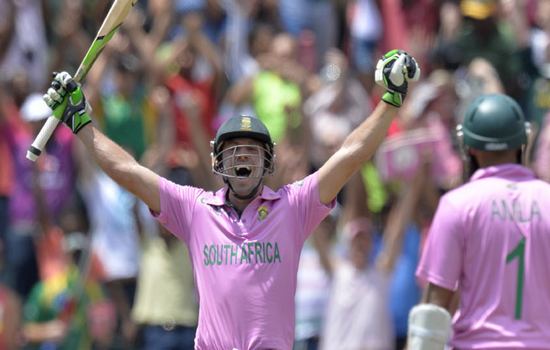 Mr. 360o AB de Villiers knocked another blistering innings in ODIs history garnished with 16 sixes against West Indies at Johannesburg on 18th January 2015. He smashed 149 runs at just 44 balls. In that particular match he also scored fastest century in ODIs and fastest fifty in ODIs. AB de Villiers scored 149 runs at 44 balls with a marvelous strike rate of 338.63.
On 24 February 2015, in ICC Cricket world cup 2015 West Indies were facing Zimbabwe in pool match at Canberra. The left-handed opener Chris Gayle played a destructive innings of 215 runs at 147 balls. He smashed 16 sixes and 10 fours in his mind-blowing innings. He also became the first batsman who scored double hundred in the history of ICC Cricket world cup. He also holds the record of highest individual scores in world cup history.
Most Sixes in an Innings of ODIs by a Batsman
| | | | | | |
| --- | --- | --- | --- | --- | --- |
| Sixes | Player | Runs | Team | Opposition | Match Date |
| 16 | Chris Gayle | 215 | West Indies | Zimbabwe | 24 Feb 2015 |
| 16 | AB de Villiers | 149 | South Africa | West Indies | 18 Jan 2015 |
| 16 | Rohit Sharma | 209 | India | Australia | 2 Nov 2013 |
| 15 | Shane Watson | 185* | Australia | Bangladesh | 11 Apr 2011 |
| 14 | Corey Anderson | 131* | New Zealand | West Indies | 1 Jan 2014 |
| 12 | Mitchel  Marshall | 157* | West Indies | Canada | 22 Aug 2008 |
| 11 | MJ Guptill | 237* | New Zealand | West Indies | 21 Match 2015 |
| 11 | Sanath Jayasuriya | 134 | Sri Lanka | Pakistan | 2 Apr 1996 |
| 11 | Shahid Afridi | 102 | Pakistan | Sri Lanka | 4 Oct 1996 |
| 11 | Denesh Ramdin | 169 | West Indies | Bangladesh | 25 Aug 2014 |
| 10 | MS Dhoni | 183* | India | Sri Lanka | 31 Oct 2005 |
| 10 | Mark Boucher | 147* | South Africa | Zimbabwe | 20 Sep 2006 |
| 10 | Mathew Hayden | 181* | Australia | New Zealand | 20 Feb 2007 |
| 10 | Brendon McCullum | 166 | New Zealand | Ireland | 1 Jul 2008 |
| 10 | Abdul Razzaq | 109* | Pakistan | South Africa | 31 Oct 2010 |
| 10 | Kieron Pollard | 119 | West Indies | India | 11 Dec 2011 |
| 10 | Angelo Mathews | 139* | Sri Lanka | India | 16 Nov 2014 |
Source: Cricinfo